Accurate Private Network Design Is the Key to Smart Mining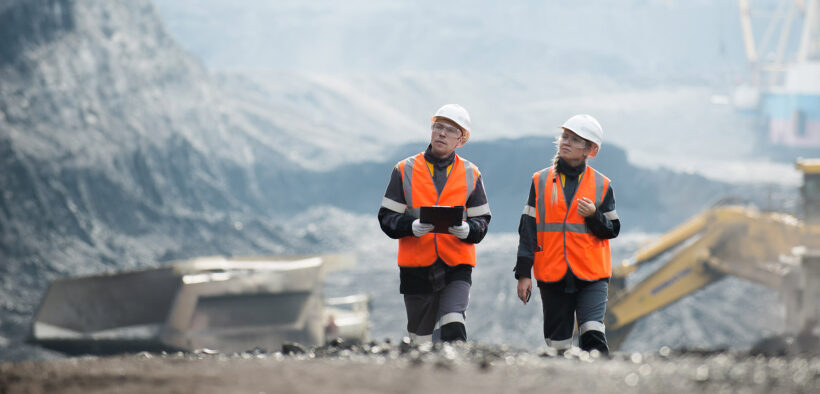 The future of mining is smart mining enabled by the Internet of Things (IoT) and artificial intelligence (AI) technologies. The $2 trillion global mining industry is among the most demanding in many ways: communications, safety, regulatory requirements, sustainability, and other challenges must be addressed on every site. By leveraging IoT and AI, mine operators can successfully maintain and enhance profitability, safety, and regulatory compliance with powerful automation, environmental sensing, worker safety, and training systems, as well as a wide variety of productivity and asset management tools.
Below, you can see the various private 4G & 5G use cases in mining.
To take advantage of all the benefits IoT and AI offer, smart mining operations will require the use of many different types of information technology and communication (ITC) networks. But private wireless networks (4G/LTE and 5G) will be the key enablers of IoT and AI. Private wireless networks provide the reliable, low-latency, and high-capacity connectivity IoT and AI devices need to be truly effective in a mining environment.
However, private wireless, especially 5G, is still a relatively new option for the industry. While there are approximately 100,000 mining sites worldwide, estimates suggest that only 200 have private wireless networks. Of these, most are likely 4G/LTE networks. And wireless network design for mining operations is more challenging than it is for other venues, such as malls, factories, ports, and warehouses. With a variety of variables to consider, accurate network design, coverage prediction, and site surveys will be critical to cost-efficient and effective smart mining network deployments.
Unique Geographic, Logistical, and Technical Network Challenges
Private wireless networks for mining sites can provide the effective coverage and low-latency connections needed for a variety of safety-critical IoT and AI applications across what are often large, uneven operational areas. Many sites often combine above-ground and underground environments, which makes it difficult to design and deliver comprehensive and reliable coverage for an entire operation.
There are three main challenges network designers must address to deploy tailored private wireless networks that support smart mining.
Large and Complex Locations
The first is geographic. Mines can be 10 km or more in radius and feature multiple tunnels that measure in the 10s and even 100s of kilometers in length. The physical topography of the environment is also very challenging: not only do networks have to cover large areas, but very uneven ones, both above and below ground. Deep pits, underground tunnels and shafts, and isolated railways all create network coverage challenges. And all these factors impose constraints on safe locations for core network elements.
With the challenging environment, companies need a way to accurately the mining area and its landscape. iBwave Reach allows you to create an accurate and detailed 3D model of your site, including the various typology of the surroundings such as mountains or valleys, using GIS data.
Hazardous Materials in Dynamic Environments
The second challenge is logistical. The omnipresence of metals in mining environments — ore in the mine walls, as well as 400-ton mining trucks, metal cranes, and conveyers — inhibits wireless propagation. Dangerous materials in mines, such as explosives for blasting rocks and potentially hazardous gases such as methane, require connected equipment to be mobile to avoid certain hazards. Meanwhile, connected devices such as drones are increasingly being used for security surveillance, monitoring environmental conditions, and calculating stockpile levels. And mines are highly dynamic environments in which new pits and tunnels are regularly being opened as others are exhausted and closed. All these logistical challenges make network planning an ongoing process.
Seamless Coverage and Redundancy Necessary
The third major challenge is technical. AI and IoT devices offer substantial benefits, but they require seamless coverage as they operate and coordinate heavy machinery in an unpredictable and often dangerous environment. Redundancy is critical, as is ongoing planning and testing to ensure connectivity remains seamless.
Challenges Create Five Major Design Considerations
An effective network design for a smart mining operation addresses these challenges by minimizing the potential for coverage gaps and potential disruptions, which can be both costly and dangerous. This requires network designers to focus on five considerations — the Five Cs — of effective private network design.
Coverage
The aforementioned physical challenges inherent in mining operations all come together to make establishing and maintaining consistent coverage challenging. For example, the changing nature and number of underground tunnels can only be covered with customized, local wireless connectivity. Deep pits create significant challenges for propagation, with local small cells or radio heads required to deal with shadowing effects. And as site topography changes over time, network infrastructure itself may need to be moved to continue to provide the coverage needed to support ongoing operations.
Control
Controlling the level of performance is difficult given the coverage challenges. To maintain control, operators will need to stratify their networks to ensure that the highest performance bands are always available for the most critical operations. They must also choose their own mechanisms for redundancy and cybersecurity to align with sector-specific best practices and regulations and the requirements of IoT and AI functions. And for demanding applications like streaming video or low-latency remote control of machinery, they must customize and optimize radio resource management and redundancy.
Cost
Cost is obvious, but worth stating. While deploying and maintaining a wireless network is going to be a small percentage of the overall cost of mine operation and management, it is important to ensure that the network is providing the ideal balance between cost and performance.
Cloud Integration
Network designers must also consider cloud integration. Connecting a wireless network to a cloud computing environment can help optimize operations, particularly when using AI and IoT. But leveraging cloud-based computing also places significantly greater data demands on the network.
Compensation
Finally, overall compensation must be considered. The wireless network should be a multiplier for the rest of a mining operation. When evaluating the effectiveness of a wireless network, designers should consider how it is contributing to enhancing revenues via productivity and asset management improvements, while reducing costs such as downtime and injury.
Sophisticated Pre-Deployment Tools Efficiently Head Off Challenges
Ultimately, while mining operations stand to benefit immensely from the integration of AI and IoT technologies that enable smart mining, the highly complex nature of mining environments make the risks associated with a poor wireless network design substantially higher than they are for other venues.
Accurate network design, coverage prediction, and site surveys provide mining operations the first, best chance to optimize the deployment of private wireless networks. With the right tools, mining operators can accurately determine the coverage needed, balance cost and performance, simplify and streamline deployment, minimize risk, and maximize efficiency as they transition to smart mining.
The iBwave solutions for mining allow RF engineers to model a surface or underground Mining environment with indoor or outdoor network elements with the necessary analysis to reach the KPIs networks requirements.
iBwave Reach, our all-in-one planning and design solution for campus wireless networks, provides network architects with all they need to accurately predict and design coverage/quality for any surface smart mining operation. For underground smart mining operations, you can use iBwave Design, our software for planning and designing indoor wireless networks.
Our software eliminates time-consuming and costly site surveys and gives you end to end view of both the macro and indoor data as you design. Finally, you can use iBwave Mobile Survey to make measurements in order to validate your design and/or calibrate the propagation modules.
To learn more about how private wireless is transforming mining — and how iBwave can help you design an efficient network for your operation — read our e-book.