iBwave's E-Waste Collection for Earth Day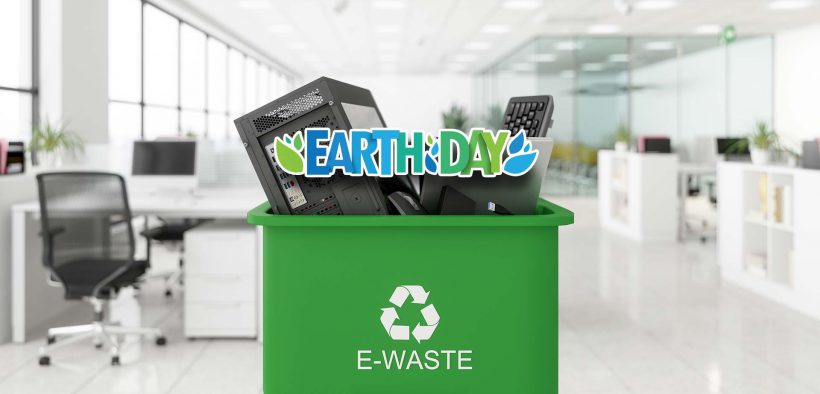 Earth Day is a time to commemorate the importance of respecting the environment and making changes towards a greener future. This year we are emphasizing the importance of e-waste. As a team, at iBwave, we worked together in collecting e-waste from our homes and offices to dispose of properly.
What is E-Waste?
E-waste (electronic waste) consists of electric and electronic equipment that is either not in use or broken and has been thrown away. These items become e-waste when they are wrongfully disposed of in the garbage as it ends up in landfills.
Examples of e-waste include batteries, chargers, old phones, computers, electrical kitchen equipment, and anything powered by a battery or electricity.
Why is E-Waste Harmful to the Environment?
E-waste contains toxic metals, organic pollutants, flame retardants, mercury, lead, and cadmium. If not properly disposed of, these components carry high risks to the environment and to people.
When not properly recycled, e-waste ends up in landfills where the biohazardous chemicals pollute the air, water, and soil. These chemicals infiltrate farmland, drinking water, and the air we breathe.
In fact, 50 million tons of e-waste builds up in landfills annually.
E-waste must be disposed of at a recycling facility where electronics are sorted by material. Salvageable materials and pieces are then processed to be reused and repurposed in the fabrication of new electronics and machinery.
iBwave's E-Waste Collection
As a software company, you can imagine we use a decent amount of electronics. Thus, it is only right to ensure it is recycled properly. To do so, we collected our computer screens, dead batteries, chargers, and more throughout the last few weeks to then bring them to local recycling facilities.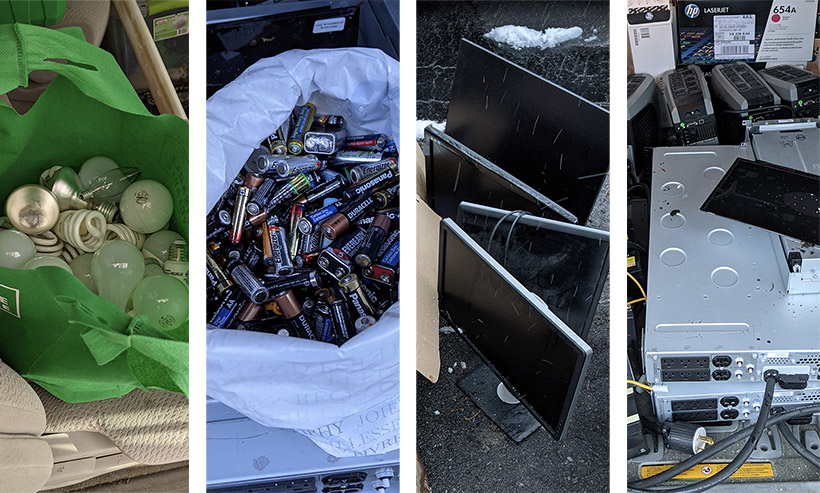 If you are curious, we collected, in total:
5 pounds of lightbulbs
17 pounds of batteries
3 units (207 pounds) of server power banks
14 units (56 pounds) of Server batteries
15 units (15 pounds) of printer toner cartridges
6 units (120 pounds) of uninterruptible power supply (UPS) boxes
5 monitors
Misc electronic wires and small devices
6 cans of paint and aerosol
We have raised awareness amongst our teams on how and where to recycle e-waste for future reference. Though Earth Day is a designated 24 hours to celebrate the environment, we cannot forget the importance it carries for years to come.
What You Can do to Help
As mentioned, e-waste must be recycled in a facility. Thus, when you have old batteries, cables, phones, or even a microwave, don't throw them in the garbage or recycling bin. Collect these items and bring them to your nearest recycling facility.
Furthermore, if your old electronics are not broken and could still be in use, opt to donate them instead of disposing of them. Giving an item a second life is just as good, maybe even better, than recycling them. Though the components of an electronic can be recycled, there are parts that are not salvageable.
For more information, visit your cities' website to see where you can dispose of e-waste properly.
About iBwave Solutions
With 17 years of experience spanning over half a million projects, iBwave provides innovative software solutions to deploy accurate in-building wireless and wireline networks. Regardless of the size, complexity, or technology, design and deploy wireless and wireline networks smarter and faster with iBwave. Optimize performance as well as your budgets, and keep your team connected with our powerful cloud solution that enables the simple sharing of project information and keeps all your project information in one location. Enterprises, system integrators, operators and OEMs worldwide are unlocking the power of iBwave software to save costs, drive revenue, and make better decisions.
Latest posts by Chloé Langlois
(see all)