Introducing Augmented Reality in iBwave Wi-Fi Mobile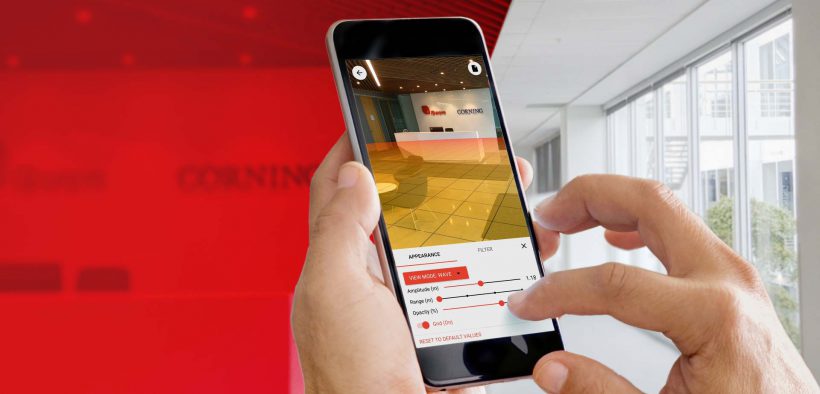 Some of you already know we've been playing with the idea of how to use Augmented Reality in the wireless network design process for the last little while. It's been a fun innovation project to work on and a fun one to show people along the way at various conferences and events.
But we wanted to do more than just show a prototype, we want to get it in our customer's hands to see if there is value and if we're on the right track. So with that thought, we're very happy to announce we've taken the next step on this AR journey and have released a few AR features as a beta in our most recent release of iBwave Wi-Fi Mobile. Why beta? Well, we have these features developed—and while they might not be primed and polished for the big time—we're at the point where the innovation team (CTCM) wants to get some real feedback on the value of AR in the network design lifecycle. But we also want to source new ideas from our customers to involve them in the innovation process. Where and how else could AR be used? There are probably many use cases out there and we want to hear what they are beyond just the few we've worked on.
Here's an overview of the features we've released and how we see them being used.
The Features
Survey Interpolation in AR
With iBwave Wi-Fi Mobile you can already collect survey data on-site and then run interpolation to get a full understanding of what the existing coverage looks like as a heatmap – which could be useful for both a pre and post-install site survey. With the AR release, you now have the option to view the existing coverage in AR as you walk the site. This can be valuable for yourself, but also for your customer who may not have the same technical understanding of heatmaps as you do. It gives you a very powerful visual to show to your customer on-site at the survey. When you are viewing in AR there are a number of different ways to view the heatmap graphically (wave, cubic, flat) and there are various ways to filter what you are looking at so you can opt to focus on just particular areas. For example, you can focus on just low-signal areas or just high-signal, filter to view only areas above or below a certain dB threshold or other areas as it makes sense.
Here's a short video showing the interpolation heatmap after a survey.
Prediction Heatmaps in AR
With this release of the AR features, there are two ways to view prediction heatmaps.
RSSI Heatmap in Mobile App
To test the value of viewing prediction in AR, the team started with just the ability to view the RSSI heatmap in AR to understand the predicted coverage of a Wi-Fi design done on the mobile app. Viewable for either 2.4 or 5 GHz, the RSSI heatmap can give you a powerful visual to use to show your customer what the predicted coverage will be of the design. This can be helpful for gaining customer approval quicker and of course, just to impress them with the visual.
Other Heatmaps
While you can view the RSSI heatmap from the mobile app, it's also possible to export any heatmap from iBwave Wi-Fi PC and show it in AR on your mobile app as well. While a more manual task – the benefits are that it will show you a more accurate prediction since it was calculated in the PC using 3D modeling, fast ray tracing algorithm and calibration. It also enables you to show many other heatmaps outside of just signal strength. Once we get a better understanding of the value of predictive heatmaps in AR, we'll look at adding additional ones to be native within the mobile app.
Here's a video showing the RSSI Heatmap from the mobile app.
Locating Equipment in AR
The last feature and use case is locating the Access Points and equipment you've designed in iBwave Wi-Fi Mobile in augmented reality as you walk the floor to validate the design installation. This could be useful to validate the installed location of the equipment, or it could be useful for future troubleshooting – especially where it's the case the AP is not visibly installed. With the mobile and design plan in hand, you can walk the building and the equipment will appear in AR where you can view useful information about it. Curious to get feedback on this one – what information would be most useful to have?
Here's a short video showing both the cable routing and where the APs are located in the design. You can see for the first AP the actual install is not exactly where it should be according to the design, whereas the second one is correctly installed.
What's Next?
That's a good question. We really consider this release a technology preview – a way to get further feedback on the use cases we've thought of, but also to brainstorm other ideas with our customers. Plus if you're like me, you will think it's just a fun feature to play with. Many times I've heard 'we would love some RF goggles' – and well, so far this is as close as we can get to that.
What do you think? Are these features useful? What else do you see AR being used for when it comes to wireless network design? Where would you like to see us take this?
Wirelessly yours,
Kelly
Latest posts by Kelly Burroughs
(see all)