The Evolution of Private Networks: Webinar Q&A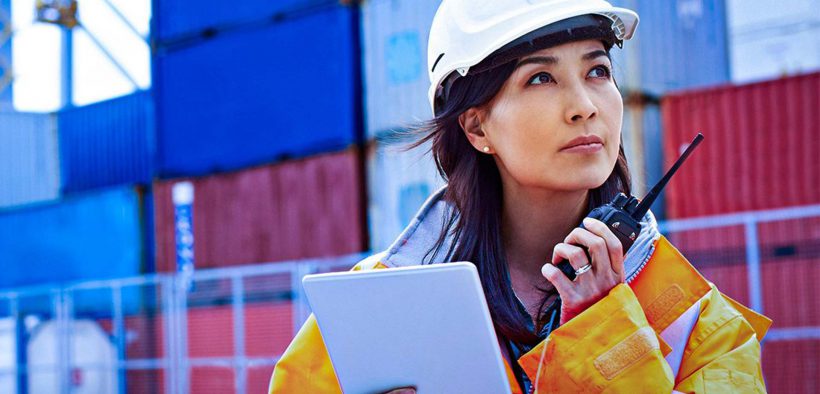 If you attended our recent webinar, hopefully you learnt something new about Private Enterprise Networks!
Industry analyst Dean Bubley has given us a clear understanding of the market considerations & challenges when it comes to the evolving roles of 5G & Wi-Fi in Enterprise & the new tendency of 'semi-private' networks. Vladan Jevremovic, our Senior Research Director, presented and demoed a use case of a 5G industrial plant design.
Haven't attended the webinar or want to watch it again? Here is a recording of the Private Networks webinar. We received a lot of live questions but we didn't have the time to answer them all. So Vladan & Dean took some time to combine those answers for you.
Enjoy!
---
Do you think investment in enterprise Wi-Fi and (semi)-private LTE/5G will increase or decrease because of the pandemic? (compared to a pre-pandemic outlook)
Dean: Depends a lot on macro-economy trends & any resurgence/mutation of the virus. Small-business Wi-Fi investment will likely fall because of economy / business failures in next 6-12 months.
Private LTE is likely to be relatively unaffected, especially given the continued growth in interest in CBRS in the US. Slight delay to PAL license auctions. Maybe a couple of months delay in some projects private/semi-private 5G will be slowed a bit, because of delays in finalizing R16 & maturing of standalone cores & devices.
Longer term there will be a refocus on some sectors vs others (healthcare, logistics etc. vs leisure & hotels)
What frequencies do you see or expect to make up the private networks? 2.3? CBRS?
Dean: Varies by country a lot (see the chart below)
CBRS in the US, plus niche use of 900MHz
3.7-3.8 GHz in Germany & likely other places in Europe
2.6 GHz in France
1.8 GHz, 2.3 GHz (both small) for private 4G, and 3.8-4.2 GHz for 5G in UK, plus also secondary re-use of
2.6 GHz in some places
26 / 28 GHz mmWave for indoor / local use in various countries – Japan, UK, Malaysia, probably Germany, Nordics etc.
At some point maybe also some 6 GHz for Wi-Fi 6E and NR-U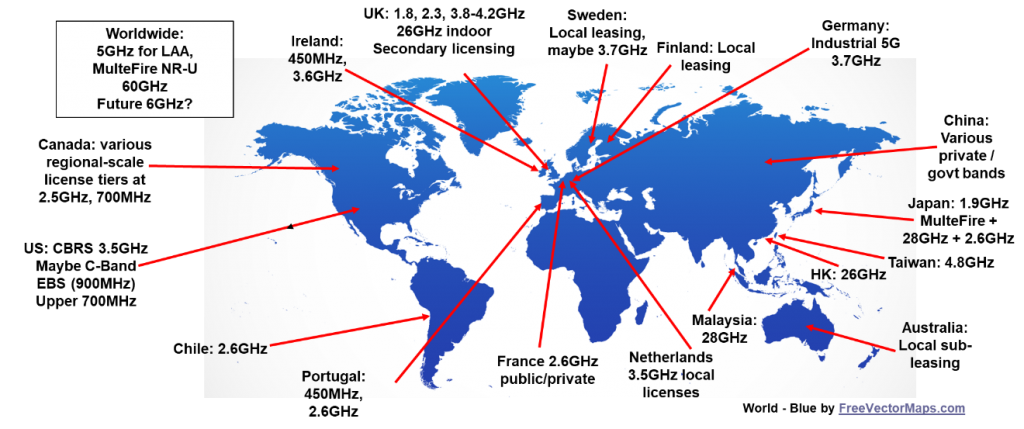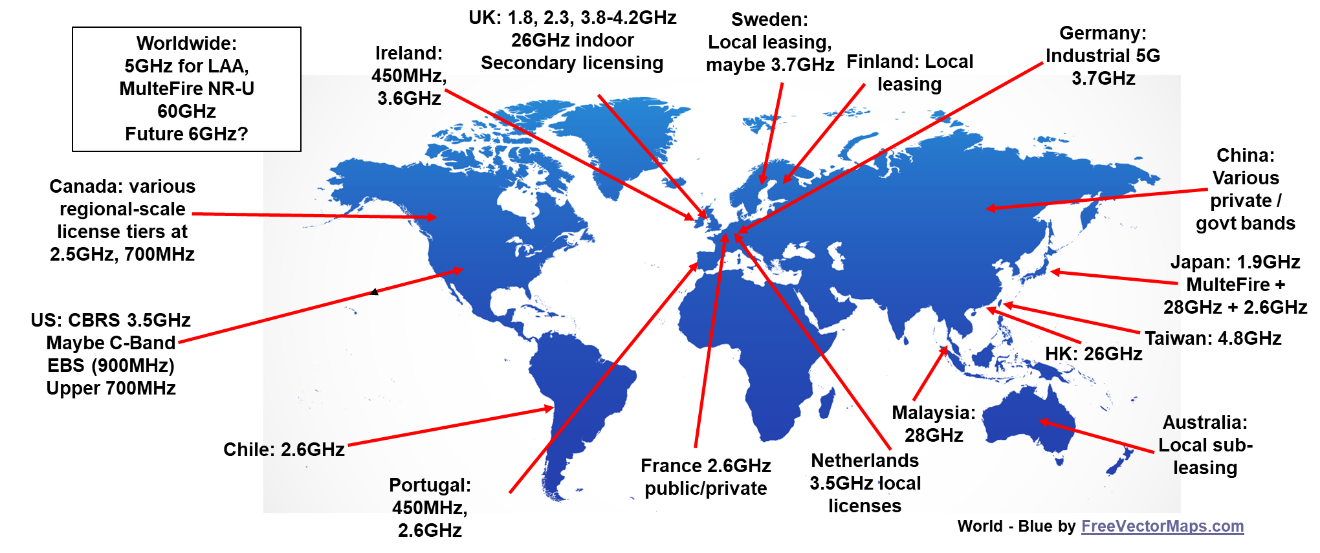 Who will run these Private networks? Enterprises don't care for CSPs and have desire for private networks, but do they have skill/stomach to run them? Will there be a rise in MVNO/MVNE to do this or will there be an expansion of MSPs (possibly the guys already managing their Wi-Fi) or do the DAS and installer community move up the stack?
Dean: Huge mix here, varying by country, industry sector, network size and single-site vs. multi-site vs. wide area, use-cases etc.
Some will be CSPs, some industrial companies (Bosch, Siemens, Hitachi etc.), some critical-comms specialists from military & public safety backgrounds, some voice MSPs, some property companies, some towercos, some DAS providers…. Will take a year or two for patterns to emerge.
Does SaaS have a role in delivering private networks?
Dean: Yes, at multiple levels – eg Core-aaS, IoT platform-aaS, eSIM-aaS, IMS/VoLTE-aaS, cloud BSS/OSS and so on. Some may be provided by telcos offering enablers, some by vendors, some by startups.
Although Private LTE deployments have happened outside the US, it hasn't had much success yet in the US, what are the reasons and how can wireless service providers be successful?
Vladan: There is a lack of private LTE spectrum. CBRS is the spectrum where we think we will see most of private LTE deployments in the USA
What are the benefits of having private 5G than ISP public 5G?
Vladan: The first benefit is that it gives more control over the traffic in private network. Also, Security, Traffic and Interference are better controlled in a separate network.
Where to you see the status and adoption of MOCN in the USA? Is N26 going to enable MNO roaming into Private 5G-SA deployments?
Dean: Slow for now – maybe over the next couple of years but not something I'm 100% certain on at present.
Yes, it's looking like there *could* be roaming scenarios emerging, but it gets a bit complicated because of issues like lawful-intercept & other regulatory concerns. Expect roaming-aaS to be offered. Also, may need extra numbering resources for the private network, plus various OSS/BSS functions. May also need the private network to use SIM/eSIM for this model – if it's completely separate, they can use other authentication methods.
---
For any other questions about Private Networks, feel free to comment this blog and we'll do our best to answer!
Latest posts by Clarisse Dubois
(see all)