Wi-Fi 6: The Key Features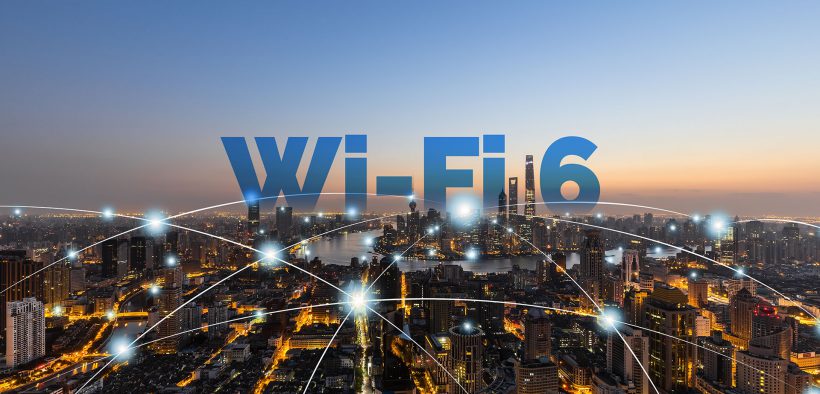 Wi-Fi 6 is largely based around the new radio specification, 802 .11ax, plus additional features such as mandatory WPA3 security. Unlike previous upgrades to Wi-Fi, the main focus is not on ever higher peak speeds, but instead on better efficiency, predictability and reliability of the connections. This reflects the requirements of the modern enterprise and consumer wireless marketplace, and expected mid-term trends.
Remember that Wi-Fi 5, previously known as 802 .11ac, was first launched in 2013, with the requirements and standards work having been done over the previous 3 years. At that point of conception in 2010, iPhones and Android devices were still something of a novelty, especially in enterprises. The Wi-Fi world still revolved around laptops – which were themselves often seen as more convenient alternatives to desktop PCs, rather than the default computing device for most workers.
By contrast, Wi-Fi 6 has been born into the era of wireless-first users, IoT transforming business processes, and an array of new mobile/cloud computing and data-access paradigms. Its core features and improvements reflect that.

Without delving too deeply into the underlying technology, the key aspects to be aware of include:
OFDMA (Orthogonal Frequency Division Multiple Access) is a change from older Wi-Fi versions' OFDM (M=multiplexing), which in essence allows radio channels to be split into sub-units. This improves the management of traffic, increasing both overall network capacity and allowing for much more "deterministic" connectivity. Particular devices or applications can receive more reliable QoS (quality of service) than in the past. There is less risk of contention, congestion or delay. This makes the technology much better-optimized for demanding use-cases such as VoIP or time-sensitive industrial automation. This is very important for the Wi-Fi community, as the growing interest in private/enterprise 5G poses a competitive threat.
MU-MIMO & Transmit Beamforming: (Multiple-User, Multiple-In, Multiple-Out). MIMO refers to a technique of using multiple antennas to form radio signals into "beams". This has been around in several previous versions of Wi-Fi, but is now standardized in a form that allows multiple simultaneous beams to be supported by an AP, connecting to several devices concurrently for both down- and up-link. Up to 8 streams can be supported.
1024-QAM (quadrature amplitude modulation mode), which is a new RF modulation enhancement, increases throughput speeds by up to 25%.
BSS Coloring: This is a technique for dense deployments, which allows multiple APs and devices to use the same RF channels, but with less interference and thus higher effective capacity.
Target Wait Time: This is a mechanism by which Wi-Fi clients and APs can pre-negotiate to schedule future connection timings, allowing the devices' radios to remain idle most of the time, and thus saving battery life. It should be particularly important for IoT use-cases such as sensors, where permanent connectivity is not essential – they can send/receive data in batches, rather than keeping the radio alive for continuous transmission.
One other important development is around spectrum used by Wi-Fi 6. Currently, the world's Wi-Fi works in two main bands – 2 .4GHz and 5GHz – both available on an unlicensed basis. While there are differences in some areas because of certain channels being occupied by other applications, there is global consistency. This harmonization has been key to Wi-Fi's past growth.
In future it will be desirable to add new bands to improve capacity further. However, as is also the case with the cellular industry (and broadcasting and satellite), finding new global bands is tricky. The Wi-Fi 6 industry may have to deal with regional variations, either in the width of the band, or precise regulations on power and coexistence with other users. Fortunately, the silicon industry (and regulatory spectrum management) is becoming more sophisticated, so various approaches should emerge. We may see more spectrum-sharing and dynamic allocation mechanisms.
The most promising band for Wi-Fi in the near future is in the 6GHz range. In the US, it seems likely that 1GHz or more may become available in this band in the next 2 years, coinciding with many Wi-Fi 6 deployments. Europe is also looking at 6GHz, but with less overall capacity and perhaps some form of sharing with 5G cellular. The exact shape of this band is one of the unknowns at present, but for which deployments should be future-proofed.
In any case, it seems likely that any new 6GHz band will only be certified for Wi-Fi 6 and OFDMA, in order to maximize the benefits of the new standard. Older variants of Wi-Fi will be confined to 2.4GHz and 5GHz.
The above is an excerpt from our free eBook Wi-Fi 6 and Enterprise Networking Convergence by guest writer Dean Bubley. Click here to download the full version.
More Wi-Fi 6 Resources
Want to get into the specifics of Wi-Fi 6 design? Download our Wi-Fi 6 Wireless Standards quick reference poster.
What does Dean think of convergence and the evolution of indoor networks? Read his guest blog article to find out!
Or, learn the Do's and Dont's of Stellar Wi-Fi design in our exclusive webinar.
Latest posts by Ben Adler
(see all)