The Largest Database in the Wireless Industry Today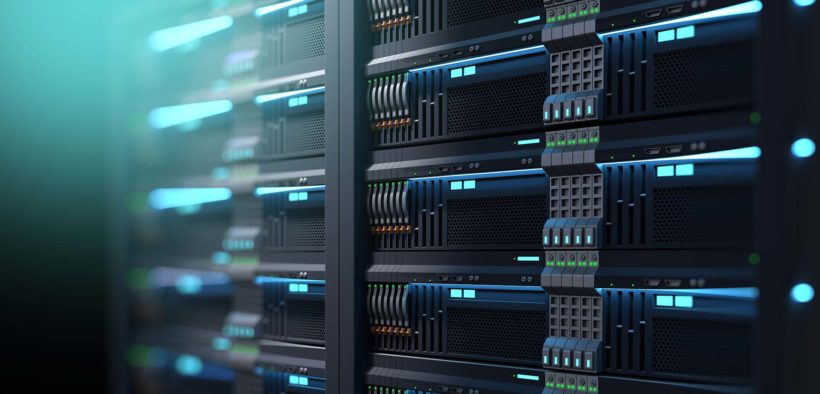 iBwave's Components Database is the Largest Database in the Wireless Industry Today
With over 28,000 components and materials and growing daily.
Those who design wireless networks with iBwave know that it's pure gold to be able to easily find the parts and materials you need from the online database of components, where the majority of wireless network components that exist, available there. But the value of the database is not only about the number of components and the simplicity of using them within the network designs – there is more to its glory!
The iBwave Components Database also allows you to create your own parts and materials, customize existing ones, limit parts availability to approved ones only, and since it exists separate from the design software – is updated regularly as new parts are available, or as our customers add new parts are added via our support team.
Sounds good, eh? Let's go through all the above mentioned in a bit more detail.
How do we keep the database up-to-date?
The database of components is updated on a regular basis when either one of two things happens:
an OEM issues a new part and lets us know to add it to the database
a customer calls our customer support team and asks us to add a particular part they need
Because the updating of the database is not dependent on the update of the software itself, we can update the database on an on-going and on-demand basis – resulting in one of the most extensive and fastest growing databases of components out there.
Who are the OEMs in our database?
Given the large number of parts we have – Access Points, Routers, Switches, DAS Antennas, Small Cells, Cabling, etc. – it would be too long of a list to name them all here! For the sake of giving a general picture, among the OEMs with the majority of parts, you find Cisco, Ericsson, Nokia, Aruba, Ruckus, Extreme Networks, Huawei Technologies, Xirrus, AccelTex, Tessco Technologies, among many others large and small.
How are the parts added?
To update our database with the component specifications we use VEX files. The manufacturer either produces them or our customer support designs those upon a manufacturers' request. The VEX file is uploaded to our system and shared with all iBwave Components Database users through the cloud.
Note! VEX is not an abbreviation or acronym; it does not stand for anything. It is a proprietary, iBwave specific file format we use to import or export parts into/from the iBwave Database Editor in iBwave software.
The scale of our database is vast. In this graphic, you can see an approximate split onto some of the most common types of components, like antennas, amplifiers, cables, controllers, routers, switches, adapters, attenuators & access points. ↓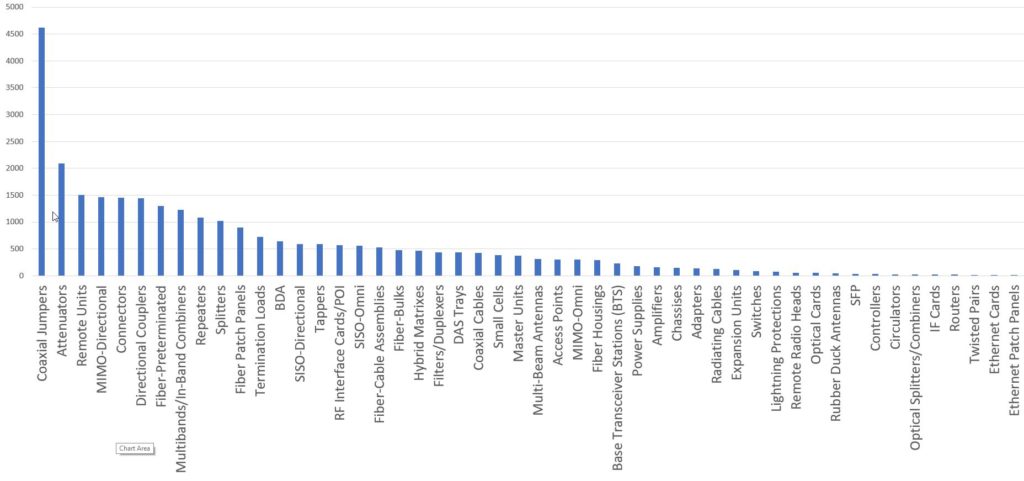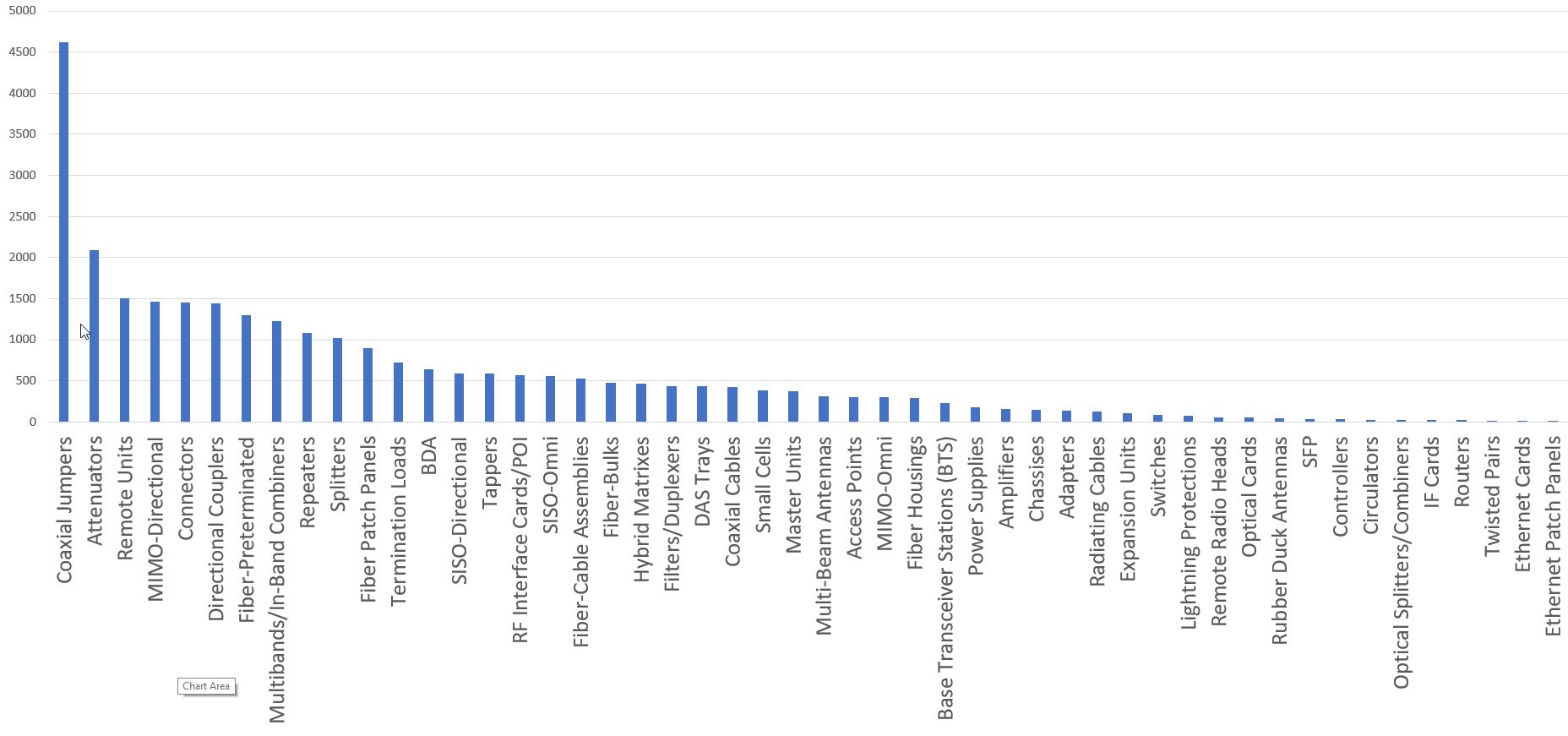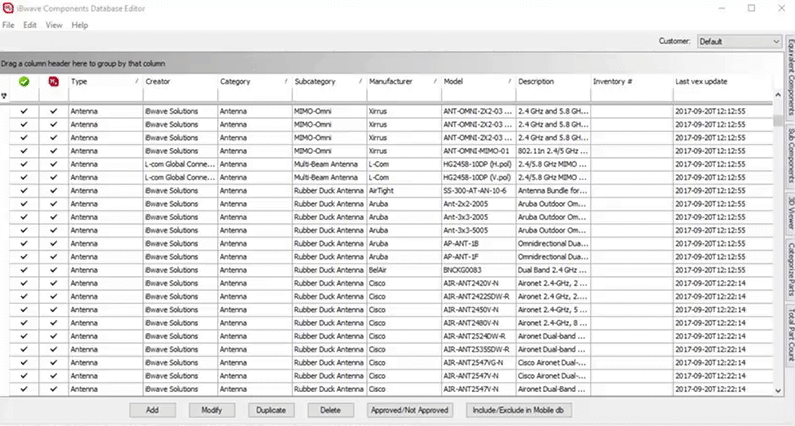 The choice is big and, yes, you can find almost anything you need directly in the database search. But what if you need something that is not there? As the network reliability depends significantly on the accuracy of the environment and components prediction, there will probably be moments when you need to adjust things. At iBwave we understand that very well, so we made it easy for you to modify parts and materials or even add your own.
Adding your own parts and materials or modify the existing ones
It only takes you a few steps to add, modify or duplicate custom parts you need for your design.


[ Read: Step-by-Step Guide to Editing iBwave Components for Your Network Design » ]


The cherry on top is that once you have that exact network part that you need, you can make it a default for your feature designs and not have to worry about searching for it each time.
The tweaked parts and materials we'll be seen in your designs instantly, but won't be shared on our online Components Database automatically. If you want to share the parts you have created with the rest of the database, you would need to reach out to us and we'll gladly pre-approve and upload the VEX file online for you.
Getting in touch with our support is super easy! Here is how you can do it:

Call our support in Americas | Europe | Middle East | Asia & Pacific

Chat right from your software if you are using iBwave Design

 Use customer support chat on the My.iBwave portal

Drop a line to support@ibwave.com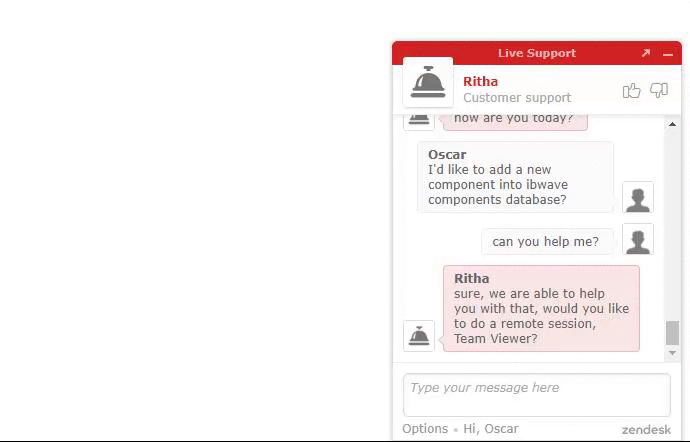 Limiting Available Parts to Approved Parts Only
While the database itself is over 29,000 parts, for companies who only design with specific vendor components, companies can limit what parts their design teams use for their projects by marking that part as an 'Approved' one. This way, the view of available parts to design with can be filtered to only those pre-approved parts. For many of our customers, this decreases the risk of using the incorrect parts of a project and simplifies the overall design phase.
What type of information can be set for parts and materials?
Let's take a look at a specific material, like concrete and a part, like an antenna to see what kind of information is kept about each part and what can be edited to fit your project purposes.
Material – Concrete
An easy way to see all types of concrete (or any other type of part) we have in the database is to filter out by using the Category field. In this case, we filter Category: Material > Subcategory: Concrete in the iBwave Database Editor.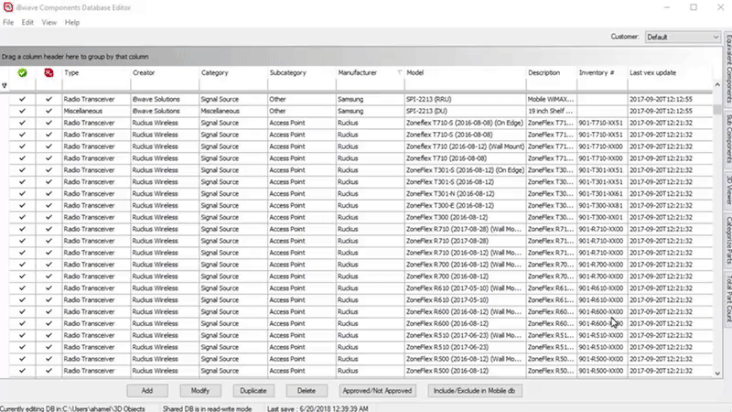 Then, you can go into the specific material you can change various details of the material in > Properties. Among many properties, you can tweak the electrical and mechanical assets, choose the color and the style of the material trace on the floor plan.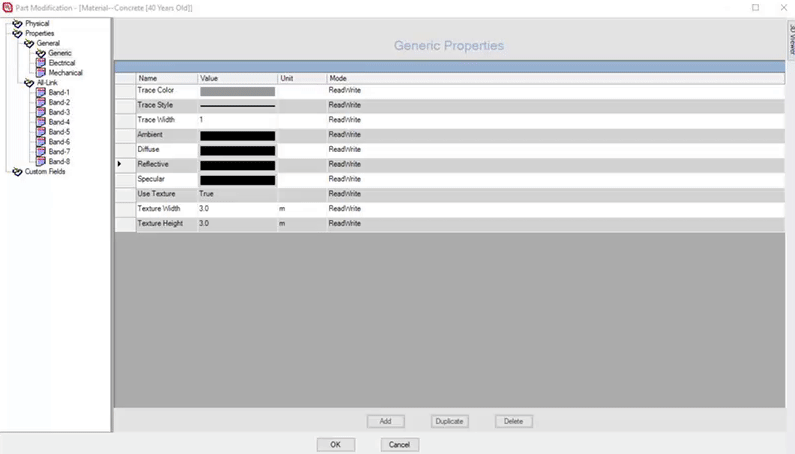 You can as well choose the texture and view your material in 3D.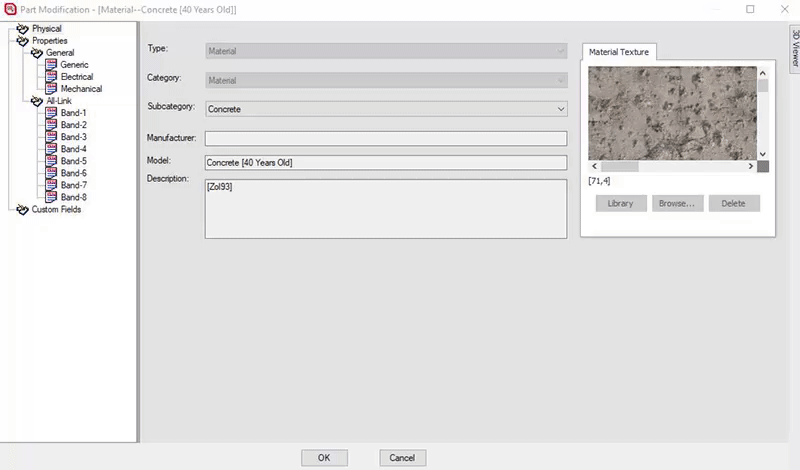 Also, view the attenuation value for each band.


[ Read: Exploring Attenuation Across Different Materials & Frequency Bands » ]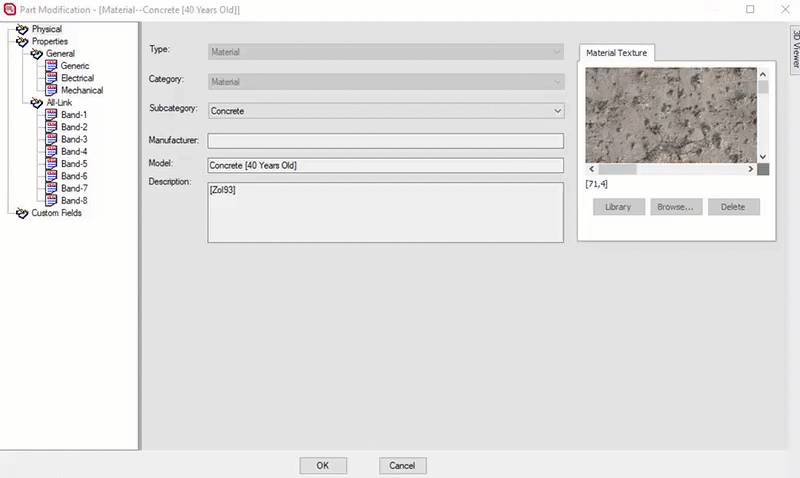 Component – Access Point
Applying a different filter, you can narrow down the list of parts to just Access Points. Let's take, for instance, Aerohive access point. Go to Category: Signal Source> Subcategory: Access Point > Manufacturer: Aerohive.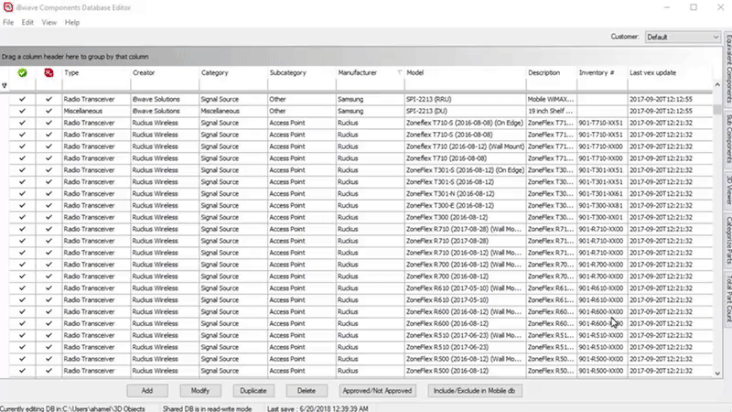 In the properties of the Access Point, you can edit the cost, construction cost, part ID and inventory number which eventually will help you to generate an accurate bill of materials and cost details report for the project.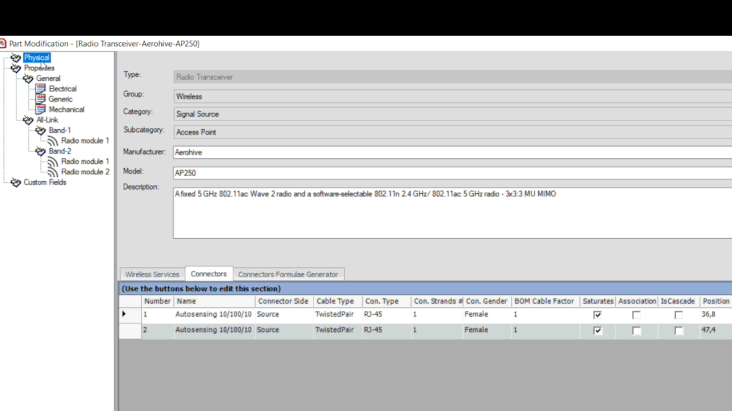 For antennas, you can also view the 3D antenna pattern from within the details of the component.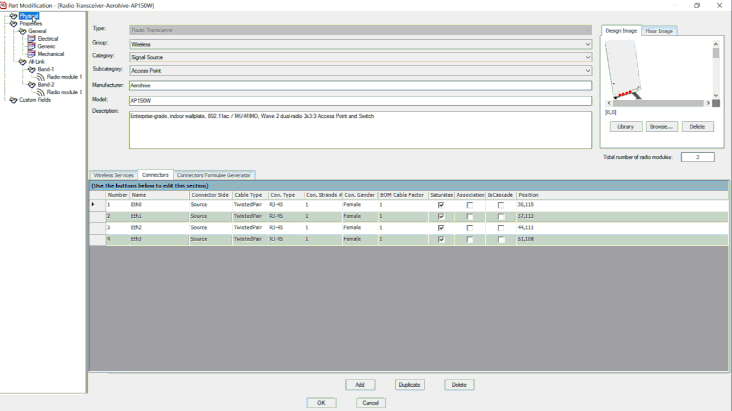 What does the value of database come down to?
Accurate prediction results
An accurate bill of materials and an accurate cost details report
Accurate Prediction Results
Even the smallest of modeling errors can lead to a large RF cost and performance issues, and that includes using an incorrect material. With iBwave's extensive database of materials, the risk of inaccurate prediction results are significantly minimized. We've even got snow!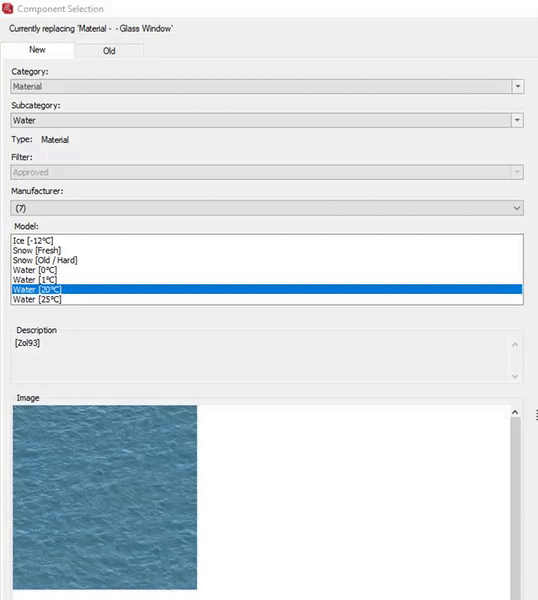 [ Read: the Blog on How Poor Modeling Can Impact RF Performance and Cost » ]


Accurate Bill of Materials and Cost Details Reports
With your venue modeled and network designed from the database of components, you are now set to produce a bill of materials to hand over to your customer. As scary as it sounds, this part is going to be a breeze when using iBwave, and you have two options: an Equipment List with no costs, or Costing Report that includes the total estimated cost of your equipment. Moreover, perhaps the best part for those you, who are used to taking that information and placing it into another format? With iBwave you can choose to export your reports in many different formats including PDF, XPS, PowerPoint, HTML, Excel, Docx, JPEG, SVG, XML and more.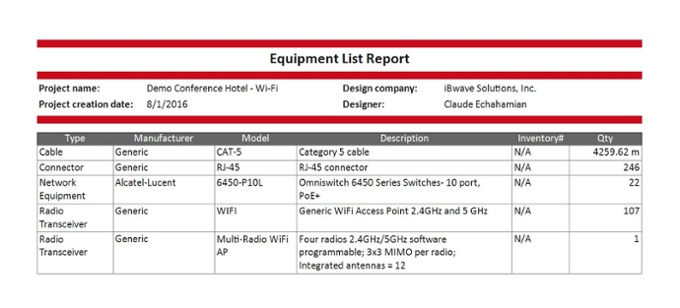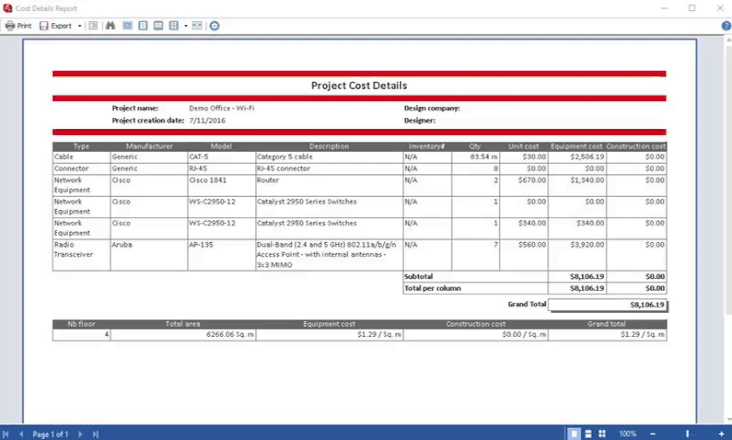 There we go, now you know about all the useful things the iBwave Components Database can bring you, including limiting available parts for your team, accurate prediction results ensured by a vast choice of materials and accurate bill of materials and costing report system.
Let us know if there are any other topics you'd like to be cover in this blog!
Latest posts by Anastasia Hamel
(see all)