Feature Spotlight: Adding/Modifying Network Parts Yourself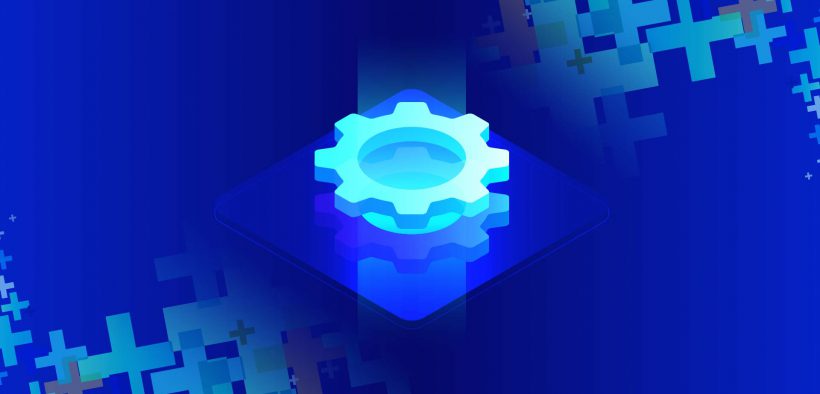 While we have a very large database of network components (over 25,000 and counting!), we know that parts are not always you need them when you design networks, and that maybe we are missing an AP, or switch, or router, or two that is new or just has not been added.
In this blog, I will show you how you can modify the parts database – to add a new AP or part or to duplicate and modify an existing part to use in your design.
Here we go.
Once logged into iBwave Wi-Fi (or Design), go to the 'Network Design' tab and open up your 'DB Editor'


Which presents you with a list of all the parts in the database that looks something like this: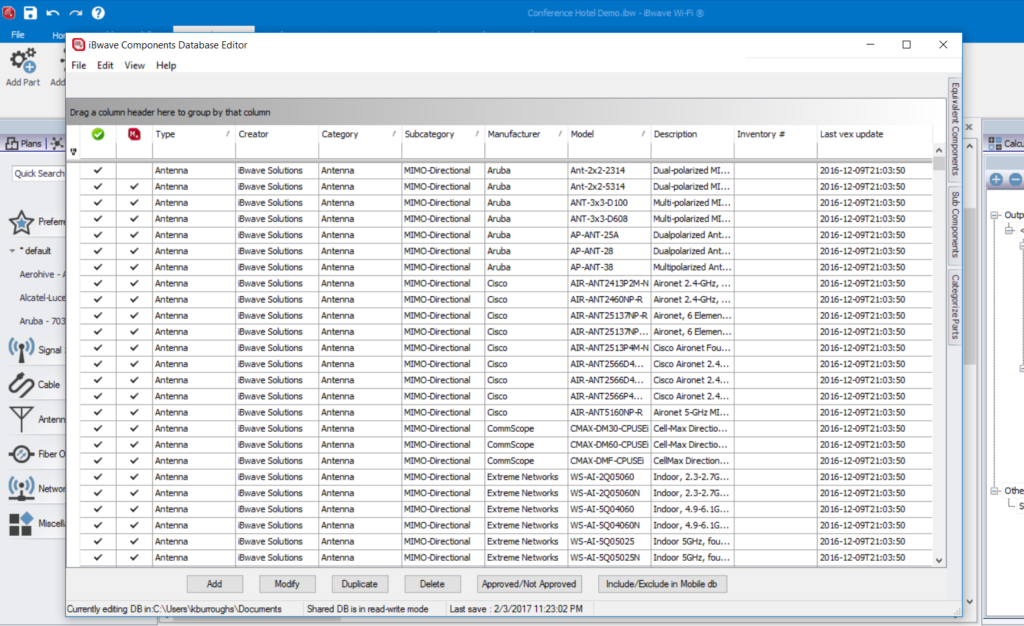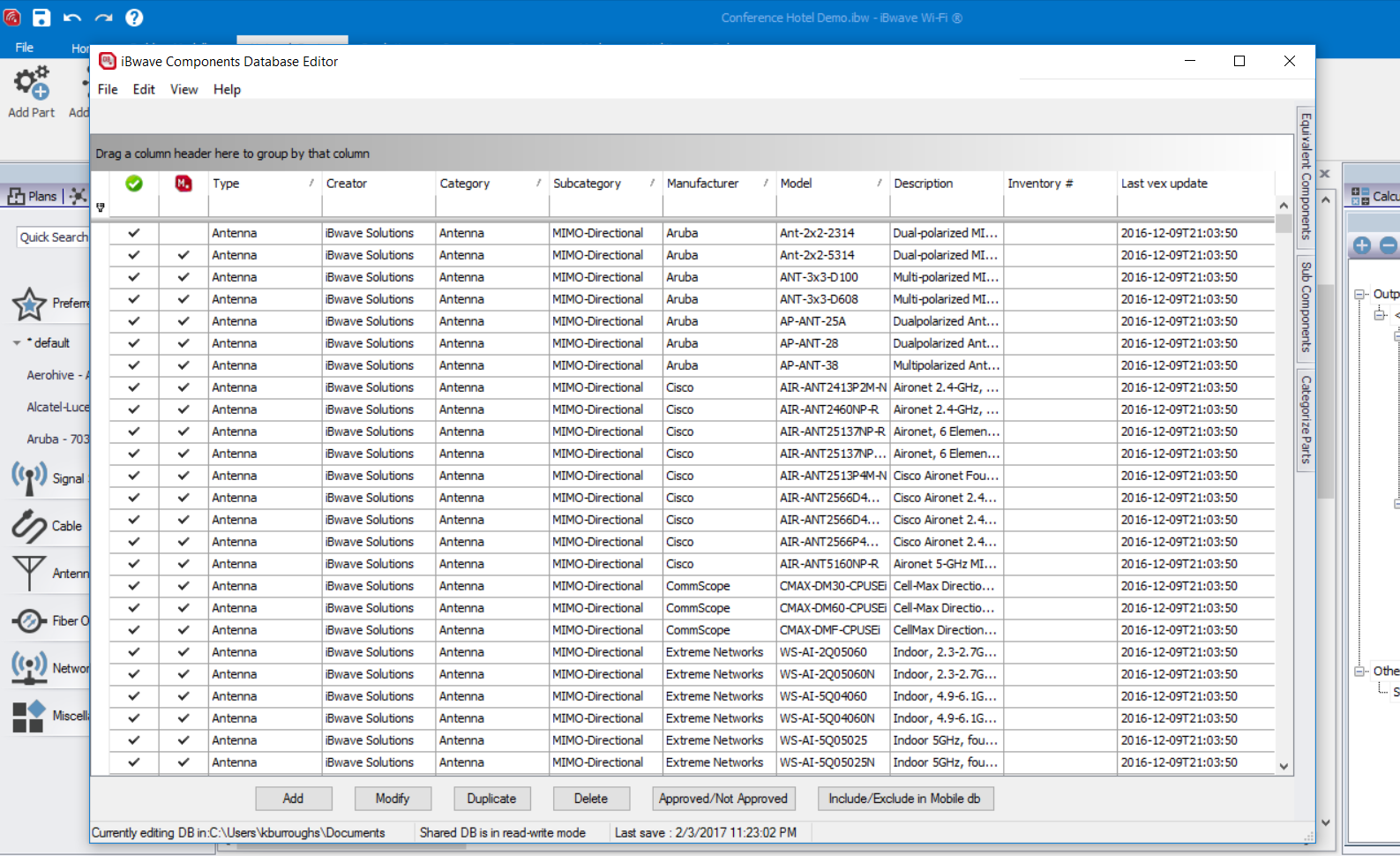 From here you can do several things:
Add a new AP
Modify an existing AP
Duplicate and modify an AP (to change the default power level for example)
Set an AP as approved (to limit what APs can be used in a design)
Add a New AP or Network Part
To add a new AP, simply click 'Add' and then fill out the information you have for that AP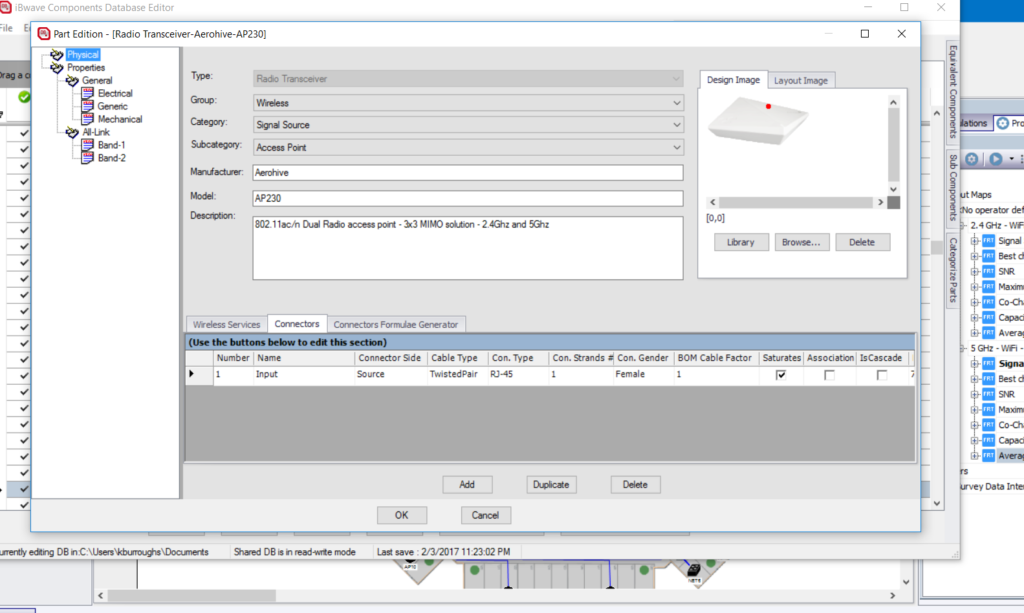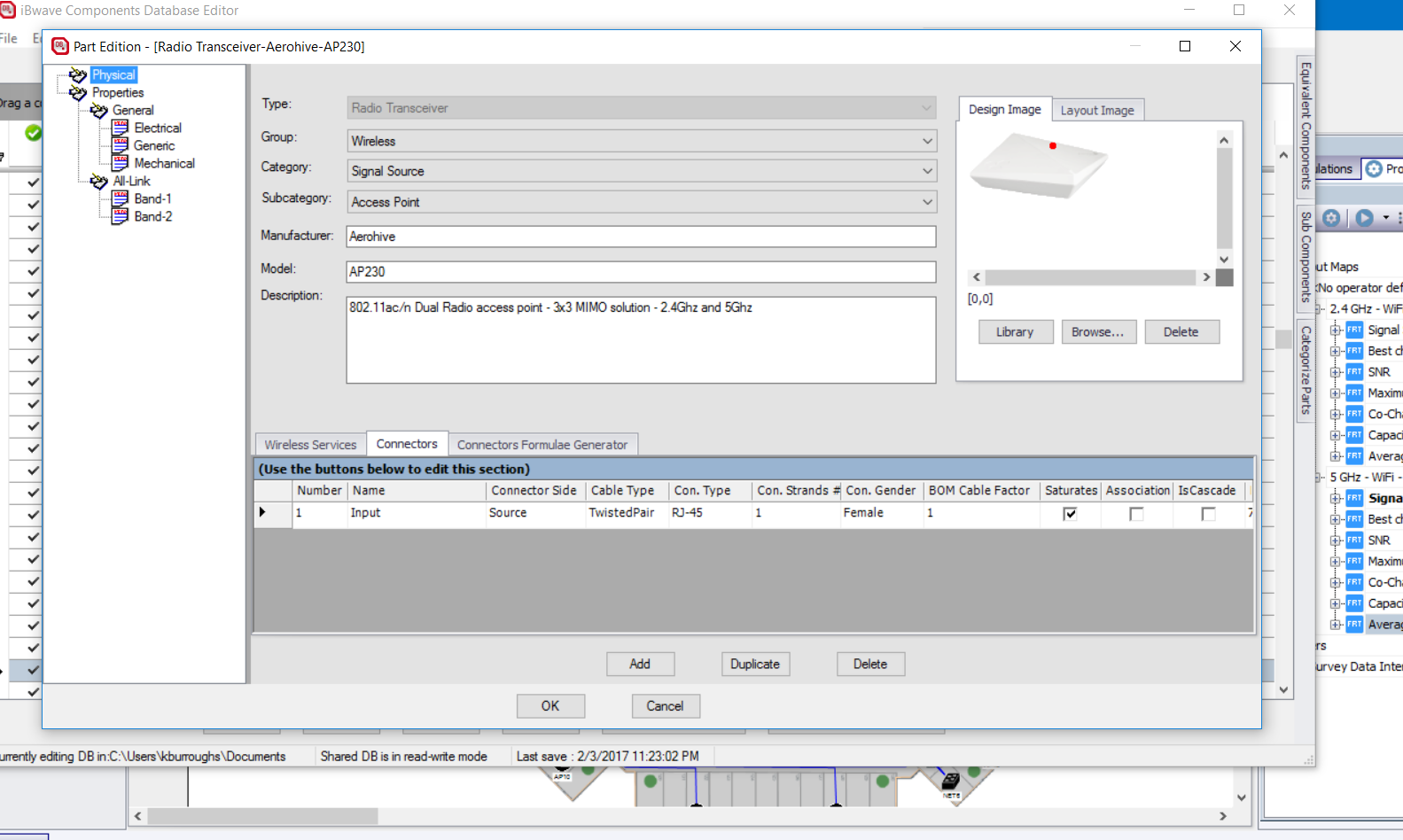 Same with other network components, for example here is a controller: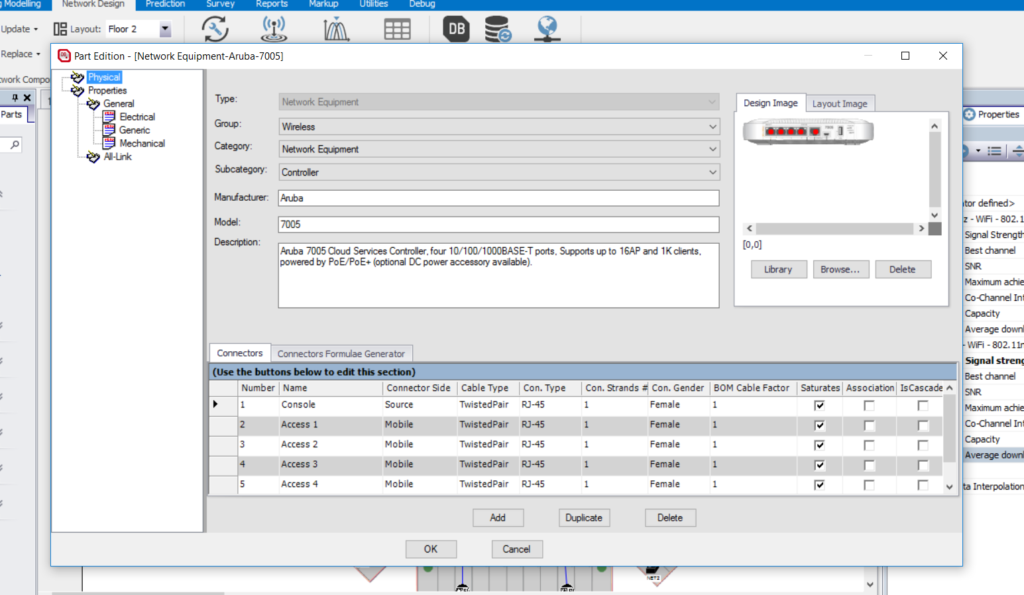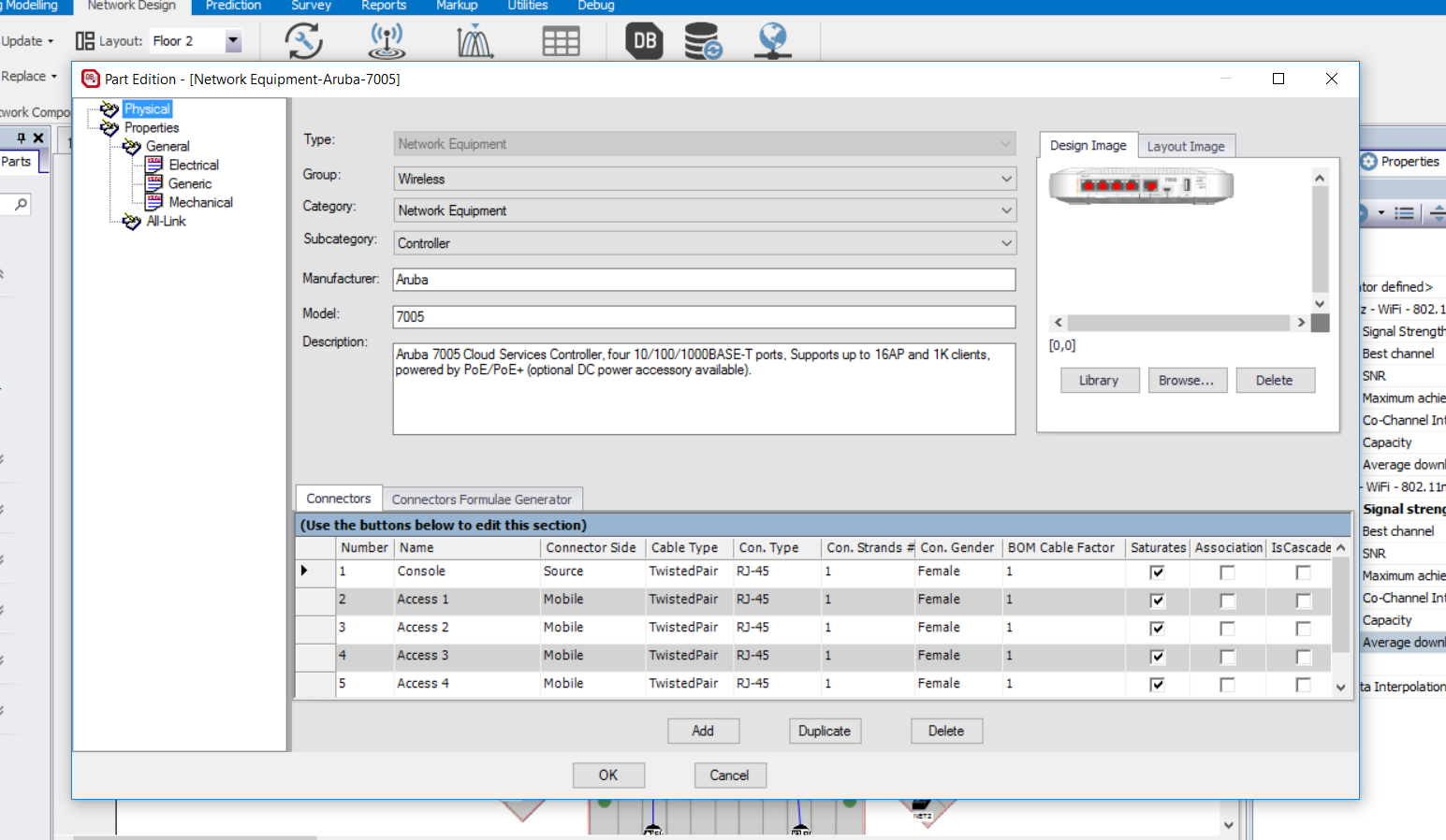 Modify an Existing AP or Network Part
To modify an existing AP, simply highlight an AP and then select 'Modify'
Then you can modify the AP in several ways including characteristics like:
Costs (which you can then view later on in the cost details report)
Inventory #
Power
Antenna Type
Image
Layout Image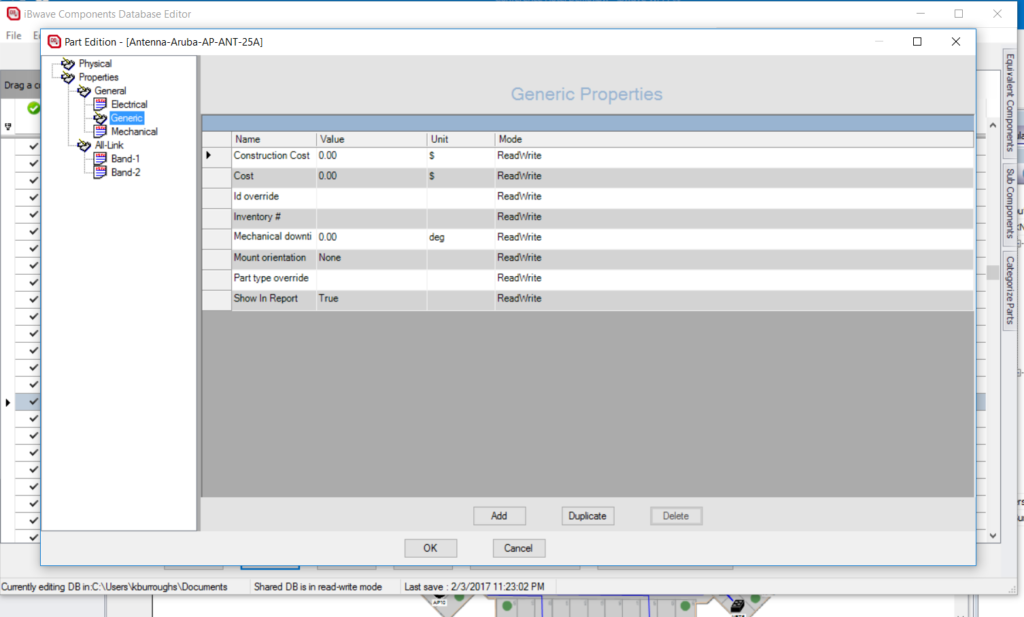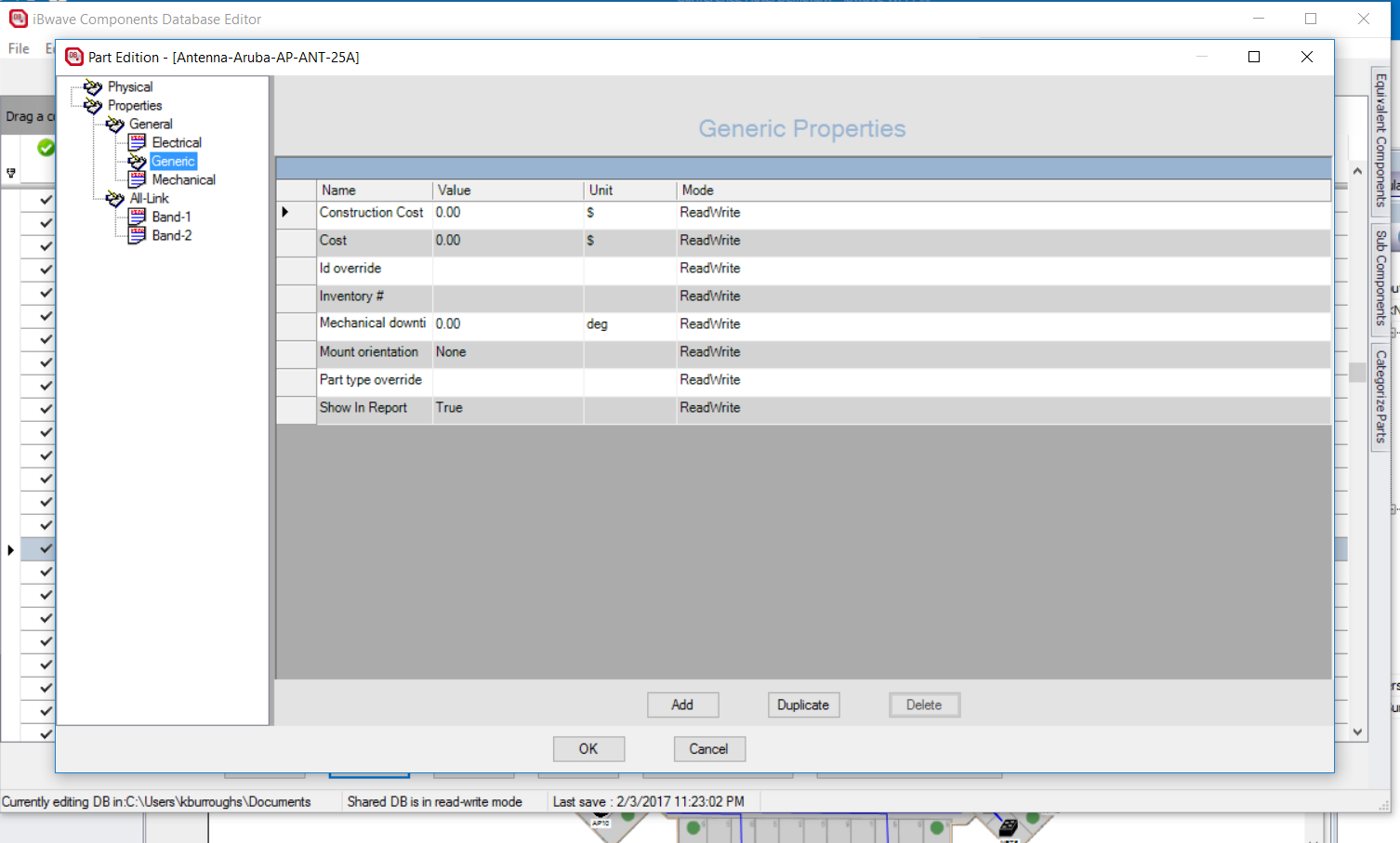 Duplicate and Modify Network Parts
In the event you don't want to modify the original part information, you can simply duplicate a part and then modify it to be what you need for the design you are working on. This way you don't have to go into the properties in the design itself and change anything as you design.
To duplicate a part, simply select the part you want to duplicate, and then hit 'Duplicate'
A duplicate of that AP will be created with 'copy' stuck on the end of it, and you can go in and modify it as need be (see #2)
What else can you do?
While I used APs as an example in this blog, you can essentially add, modify and duplicate any existing network part we have – that includes switches, routers, connectors, power supplies, network equipment, and so on and so forth!
The value in this is that once you have the network part that you need, as you need it, you can simply make it a default part in your design and not have to worry about updating any of the properties as you design.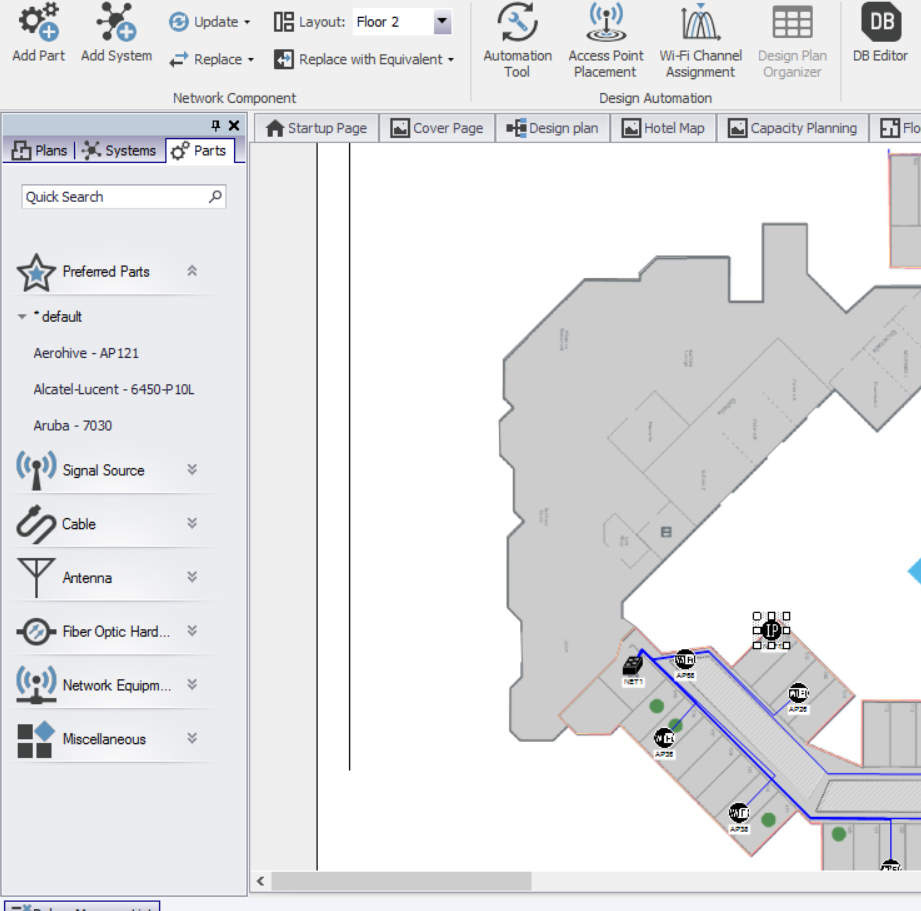 Why is this useful?
To many of our customers, having the ability to add and modify the network parts in real-time saves them a lot of time and removes the dependency of waiting on us to add parts. Although if you need that to happen, we also do that pretty quickly – it's just a matter of calling our customer care team and they will get it added usually in pretty short order.

Enjoy!
Interested in trying out iBwave Wi-Fi? Get a free trial for 14 days.
Latest posts by Kelly Burroughs
(see all)