10 Best Wireless Online Resources in 2018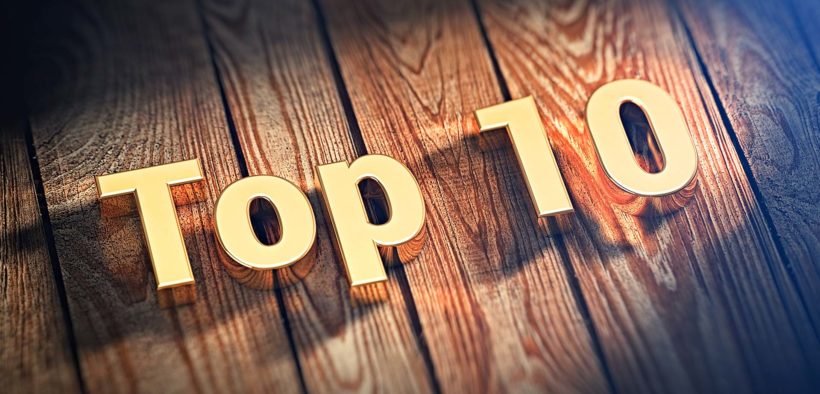 These days wireless technology is evolving at an exponential rate. New tech trends and gadgets enter the wireless market all the time. So, if you are an industry professional, in today's dynamic tech environment simply getting a certification and staying put is not enough. To succeed you need to stay informed about the latest and greatest in the wireless world and invest in constant professional growth.

A nice way to stay on top of all the cool happenings in the wireless world is to follow leading industry professionals online, learn from their experiences and engage in discussions.
Luckily wireless industry is blessed with a vibrant and savvy community of professionals who share their wisdom online on a regular basis. They ask questions, exchange opinions, share examples and make wireless jokes. You can easily improve your knowledge, participate in discussions and make new connections in the community. All you need to do is go online!

While it is not possible to mention all the great online materials on wireless in one blog, here are 10 wireless resources that we think you should follow in 2018. We tried to give you a healthy mix of everything from Wi-Fi comics and Twitter discussions to enterprise level blogs and in-depth podcasts. So here you go, we hope you find it useful!
10 Best Online Resources for a Wireless Engineer in 2018
Online active Wi-Fi community is very keen on Twitter. Endless hashtagged topics and comment threads are an excellent source of ideas and inspiration. One of our absolute favorites is the daily Wi-Fi question from Lee Badman (@wirednot). Search for the hashtag #WIFIQ on Twitter, and you'll see the discussion among WLAN professionals.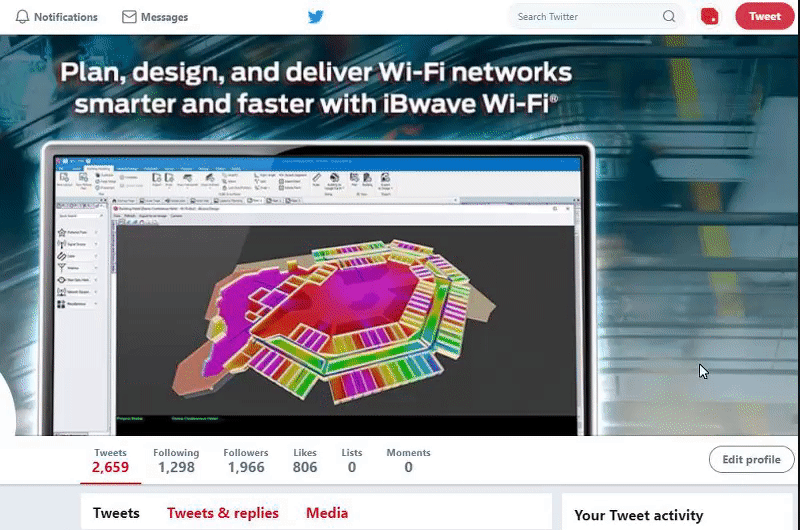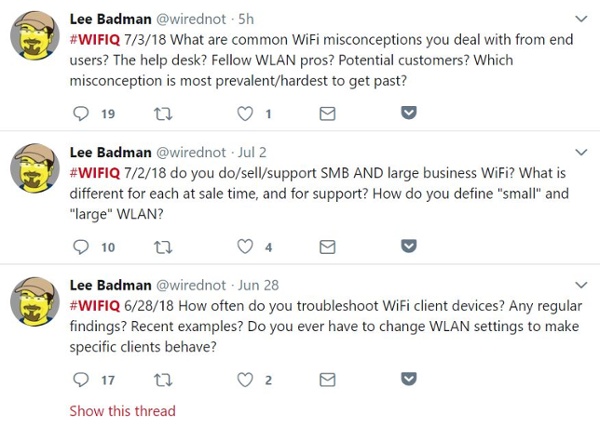 Clear To Send (@cleartosend) is a weekly podcast about wireless engineering made by Rowell Dionicio (@rowelldionicio) and François Vergès (@VergesFrancois). It covers a bunch of Wi-Fi topics, from stadium wireless implementation and general best practices to industry news and expert interviews. Need some tips on designing and troubleshooting wireless networks, and the latest products on the market? Check out Clear to Send.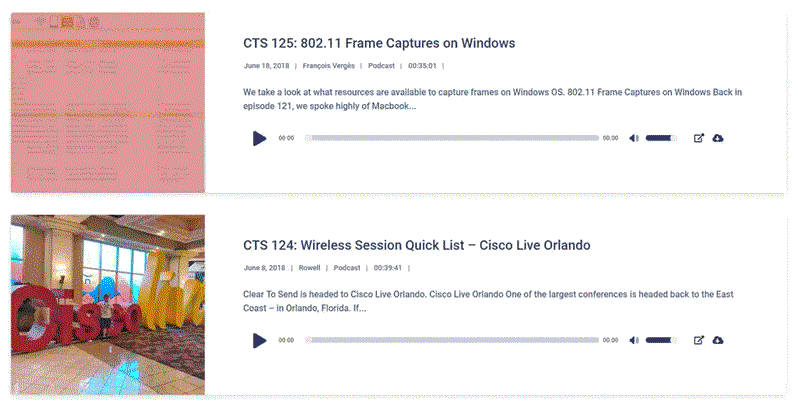 Funded by Keith Parsons (@KeithRParsons), WLANPros is the largest community of wireless professionals out there. They hang out together, they exchange opinions, learn from and inspire each other. And you can read about all these amazing people and their adventures, stay engaged and even become one of them. Check out the WLAN Pros blog for that!
Ben Miller (@Ben_SniffWiFi), is a skilled trainer and Wi-Fi specialist with more than 13 years of experience. Do you want to whiff of his expert-level, vendor neutral knowledge? Then read his blog on everything to do with Wi-Fi capturing, like surveys, analysis, security and even guides on topics like "Surveying Without Site Survey Software".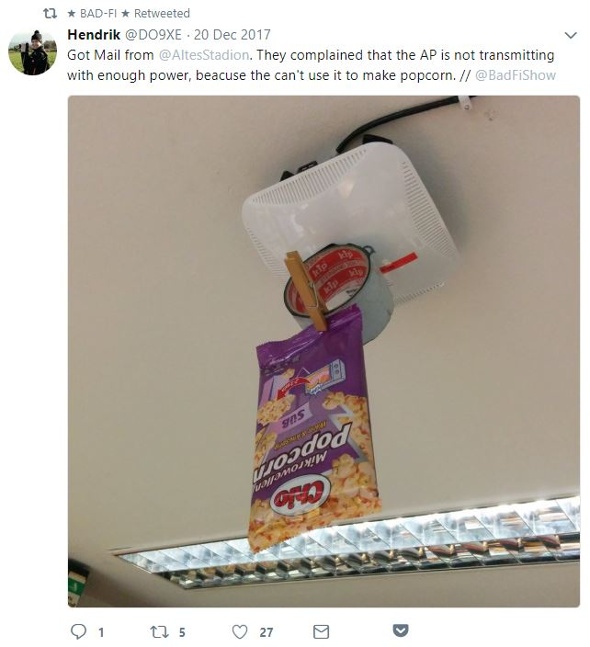 Learning from mistakes is one of the most powerful educational tools in the world. Unfortunately, missteps, mess-ups, and failures hurt. So how to get wise and experienced without creating a mess? Learn from mistakes of others!
#BadFi / @BadFiShow is a hashtag, a twitter handle and a blog that was started by Eddie Forero (@HeyEddie). Essentially, it's a collection of Wi-Fi failures and examples of what not to do when doing wireless designs. You will see a lot of weird AP set-ups out there!
Nowadays online Wi-Fi community is actively participating in filling in the picture collection. Wireless engineers from all over the world post photos of miraculous installations which are then reposted by Eddie. BadFi blog also covers other useful topics and has a freshly updated Wireless Blog Roll, Podcast List and a List of Useful Tools.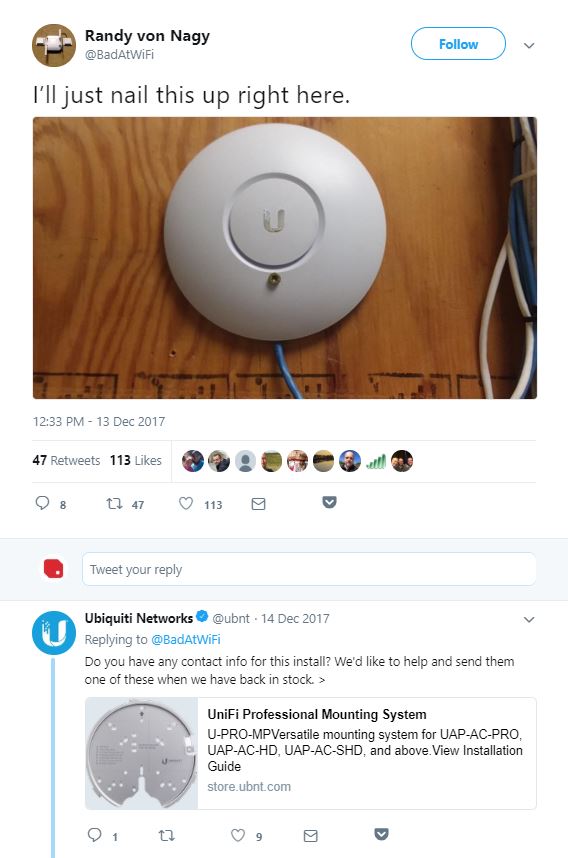 Why so serious? One does not simply design great wireless without being able to crack a joke or two. So prepare to beef up your wireless knowledge with some top-notch Wi-Fi humor.
Yes, Lee Badman aka @wirednot aka Beef Wellington is in this list again!
Lee is a man of many names and talents. He is an exceptional WLAN professional, blog writer, sometimes a poet and a drawer among other things. Oh Mystical Fi is a comics series made by Lee and is only a section in his blog, yet we believe it is so good it deserves to be on the list of resources all by itself. If you don't currently follow @wirednot on Twitter or read WiredNot Blog, you should start.

A blog by Certified Wireless Network Professionals, a recognized industry standard for enterprise Wi-Fi certification founded all the way back in 1999 when the trees were tall and 802.11was young and raw.
WifiNigel blog by Nigel Bowden (@wifinigel) is a comprehensive blog covering many wireless topics, but we like it especially for its podcast series – Wi-Fi for Beginners. Cutting-edge technologies and market novelties are great, but it's important to know your basics!
A series of blogs by various Cisco authors and featured guest bloggers covering different wireless and not only topics. This is a world of everything Cisco! There are sections, for instance, including technologies, industries, Cisco partners and materials for tech experts. Mobility is the section that would be particularly interesting for a wireless engineer.
Do you like wireless? Do you like whiskey? Bingo! This podcast by Sam Clements (@samuel_clements) and Ryan M. Adzima (@radzima) is for you. RF news in a familiar atmosphere. As Sam and Ryan put it themselves: "The whiskey and wireless show – technology that goes down smooth." Check this podcast out and see for yourself what happens when you mix high-performance technology-oriented brains and booze.
Check out also our iBwave Wireless Reference Poster Series, that aim to help you to navigate easily in all those wireless standards, types, and classes one has to remember when designing great Wi-Fi! Browse through Power over Ethernet, 5GHz, 802.11, MIMO in Wi-Fi and other wireless standards combined into easy-to-use charts.
That's all for now! Hope you will find this list helpful. And please let us know if you know any other resources that will be worth mentioning here. What are your favorite wireless blogs, podcasts or other resources?
Share with us in the comments!
Latest posts by Anastasia Hamel
(see all)