The Internet of Things: An Overview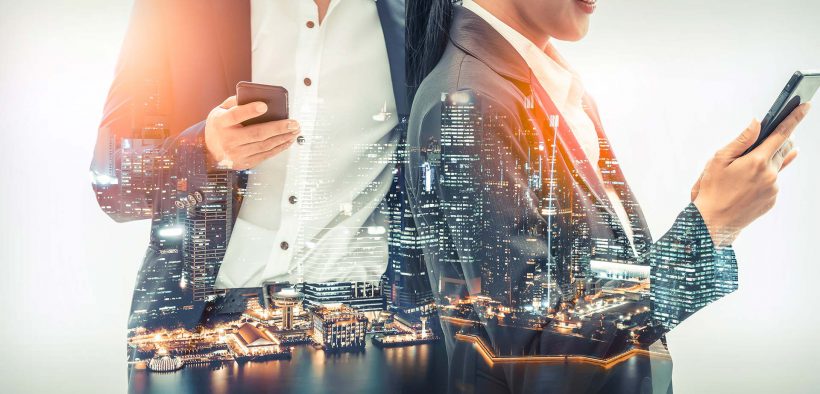 There are whispers of a powerful force in the wireless industry.
Warehouse machinery, electronic devices, factory equipment – all seemingly lifeless – are talking to each other. They're organized. They're connected. They're powerful. They are…THE INTERNET OF THINGS!
Okay, when it's put like that, the Internet of Things (IoT) sounds like a monster from a low-budget sci-fi flick. While it may not be the star of a monster movie, IoT lives up to its wacky name and then some.
So let's put it in perspective: just what is the Internet of Things?
IoT is the extension of wireless connectivity into everyday objects. Embedded with electronics, internet connectivity, and other forms of hardware, these devices can communicate and interact with others over the Internet.
IoT continues to evolve thanks to the convergence of different technologies. Traditional fields of embedded systems, wireless sensor networks, control systems, automation, and smart buildings all contribute to enabling the Internet of things.
Simply put: IoT is how devices communicate and interact with each other through wireless technology. It's becoming increasingly common in modern households: smart lighting, bluetooth speakers, automated locks, and more are all becoming essential parts of the home IoT ecosystem.
There are many different types of IoT technologies used today, each with unique standards, purposes, and benefits. Here's a quick look at some of the most used:
5G: The up-and comer. One of the newest IoT technologies, 5G brings low latency and can connect up to a million IoT devices per square kilometer. With high sensor density and efficient data throughput, 5G provides benefits to outdoor industrial IoT design that other technologies cannot.
BlueTooth: A proprietary technology owned by Ericsson, BlueTooth operates on a master-slave configuration and is commonly found in mobile devices such as smartphones and wireless speakers. While most know it for its application in personal tech, BlueTooth's low power output also allows it to be used in sensor systems and medical equipment around the world.
LoRa: A proprietary technology owned by Semtech, LoRa is a highly secure IoT platform that can send encrypted data at various frequencies and bitrates. It can provide both indoor and outdoor coverage, and its application is found in offshore industries and the burgeoning 'smart city' sector .
ZigBee: A short range technology that offers benefits such as low power output, less expensive system implementation than other IoT types, and low battery consumption. Typically found in industrial applications and home products, ZigBee operates on the 2.4Ghz band.
WiFi: The head honcho. WiFi is the most popular IoT service used around the world, universally adopted for both commercial and personal connectivity purposes. With easy implementation, no spectrum costs, and cross-vendor interoperability, WiFi has become the go-to option for indoor IoT connectivity. Features such as targeted wake time and simultaneous data transfer for up to 18 users make it an appealing option for in-building wireless design.
You can learn more about other IoT technologies with our Wireless Standards Reference Poster.
In the warehouse and factory industries, WiFi IoT design has been a mainstay of the production process for years. At iBwave, we've developed software that helps system integrators design wireless networks for these types of venues.
Warehouses present some unique challenges when it comes to IoT design. Tall ceilings, reflective surfaces, and shelves holding inventory can all negatively affect indoor signal strength. Spotty propagation can also occur through material interference from metal machinery.
With that in mind, here are some useful tips when designing and IoT network for warehouse:
Design For Worst Case Scenarios: Warehouses have ever-shifting inventory levels, and the density of product within a building can significantly affect signal strength. Site surveys should be conducted when shelves are full to ensure connectivity can be achieved even when there is a lot of potential signal refraction from warehouse stock.
Stagger Your Antennas: Warehouse layouts typically consist of a series of tall shelves separated into aisles. To ensure the best possible connection, mount antennas to opposite walls of the warehouse, alternating between each aisle. This allows for connectivity throughout the warehouse without purchasing extra antennas.

Ensure You Can Connect Anywhere: Staggered antennas will help ensure connectivity between aisles, but since warehouse stock can be stacked up to 14 meters high, make sure your devices can connect vertically as well as horizontally. Inventory scanners are a crucial tool used in virtually every warehouse, and they need to be functional everywhere in the building.
We'll cover IoT design tips and challenges for manufacturing plants in a future post.
And there you have it! We hope we've demystified the Internet of Things – we promise it isn't hiding under your bed (or if it is, at least it's there to connect your devices!).
For a more in-depth discussion on the topic, check out the IoT webinar presented by Dr. Vladan Jevremovic, the Director of Research at iBwave.
Thanks for reading!
Latest posts by Ben Adler
(see all)