Feature Spotlight: Generating an Automatic Design Plan in iBwave Wi-Fi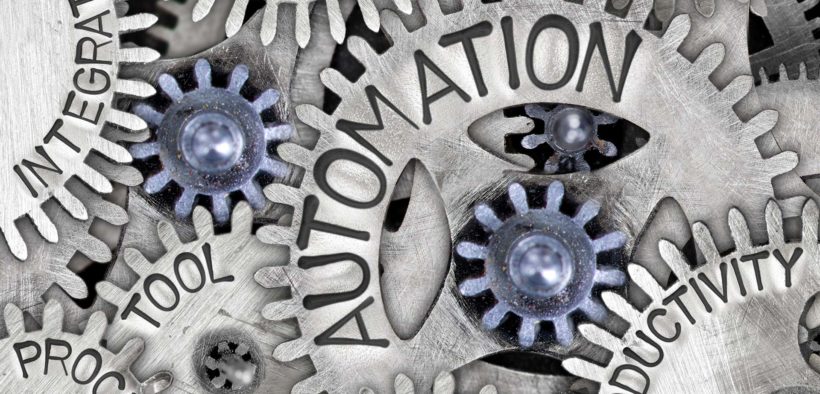 In this week's Feature Spotlight blog I look at how to generate an automatic Design Plan with iBwave Wi-Fi.
Why is this feature such a useful one?
A few different reasons but ultimately, this feature does three things:
1) Gives you a single place to view and update your entire network design
2) Eliminates the need to do this manually in Visio or Excel
3) Eliminates the risk of human error when creating it manually
In this blog, I'll cover:
What is the Design Plan
How is it Generated?
What Can You Do With It?
What's the Value?
What is the Design Plan?
In iBwave Wi-Fi the design plan is the overall design of your network, essentially combining all of your floor plans to show the overall layout of all the components included in your design and how they work together. This could include Access Points, Cable Routing, Switches, Routers – whatever components you have included in your design.
An example of a Design Plan for three story hotel looks like this ?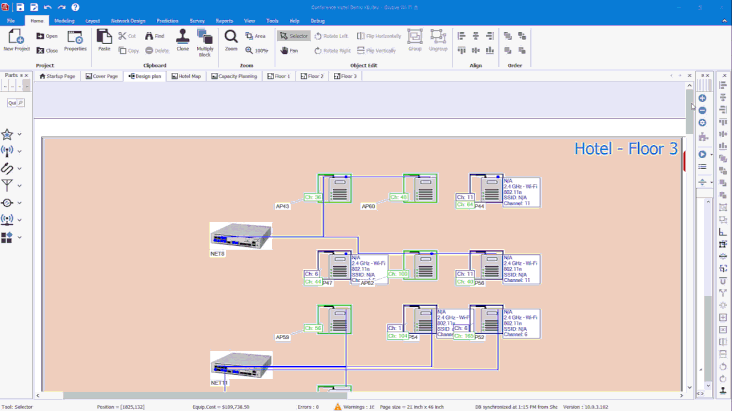 How is the Design Plan Created?
The Design Plan is created/managed from the 'Plan Organizer' icon on the 'Design Plan' tab, located before all of your floor plans in the design. Once you go into the 'Plan Organizer' you can determine how many floors are in the design plan, assign with Layout Plan correlates to which floor, and select the color/text options for display.
Here is what setting up a Design Plan looks like ?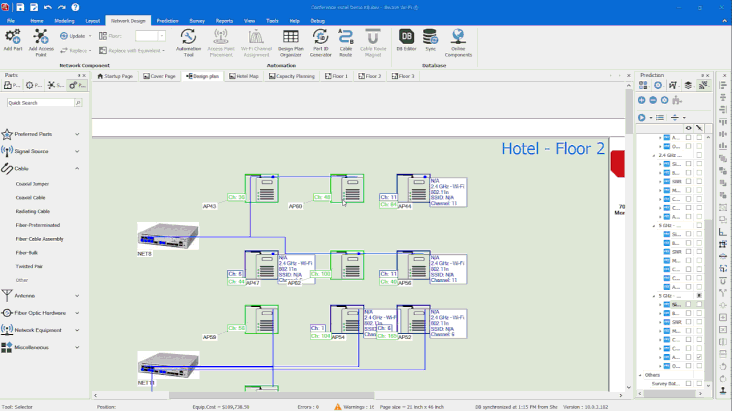 Once you have the Design Plan setup, anytime a component such as an Access Point, Cable Route, Switch, Router, etc is added or updated, the Design Plan will automatically generate and reflect the changes done in the Layout Plan tabs, on the Design Plan.
Here's a quick look at it in action where I add a new AP to the floor plan, route the cable, and see the update immediately refelected in the Design Plan ?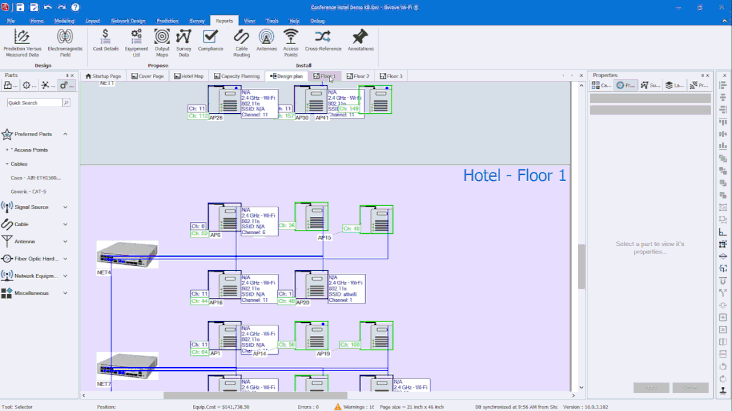 What Can You Do With the Design Plan?
Besides giving you an overview of your entire network design, the Design Plan is a great place to perform mass updates to your design or component properties. Here are a few different useful things you can do with it.
Mass Update Network Components (APs, routers, etc)
From the Design Plan, you can change out network components for other network components all at one time. Just right -click on a component and then select 'Update All Components Like This One' – from there you simply select what component you want to update it with and voila, everything is updated.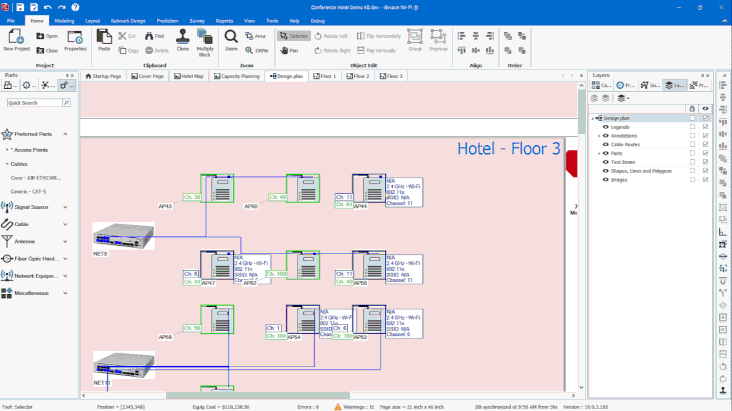 Mass Update Cost for Network Design Components
In iBwave Wi-Fi there is a cost details report that lists all of your network components and associated costs – to get that report accurate a cost needs to be assigned to each component. To assign costs to components in bulk, you can right-click one component, select all the similar components, enter a cost, and then apply it to all.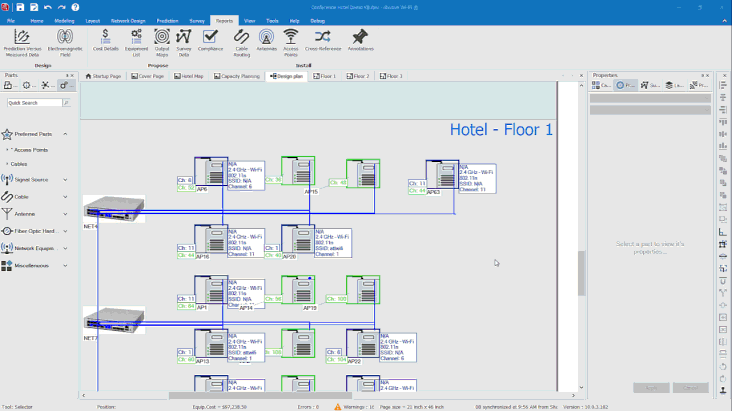 Export to Image for Documentation
The Design Plan can also be handy for the installation team to give them an overall visual of the plan – accompanied with the equipment list, cross reference and cabling reports, it can help to ensure an accurate installation.
What's the Value?
For one large OEM who recently switched to iBwave Wi-Fi, the automatic design plan feature alone saved them 7 hours of work on an average size project compared to a competitor product, as it eliminated the need for them to manually create the plan in Visio or Excel. It also eliminated any natural human errors that may have occured as a result of doing it manually (and any troubleshooting that resulted).
Have any questions about this feature or have a request to cover a specific feature or process? Let me know in the comments below.
Latest posts by Kelly Burroughs
(see all)