Jakarta, Kuala Lumpur & Bangkok – iBwave Tours Southeast Asia!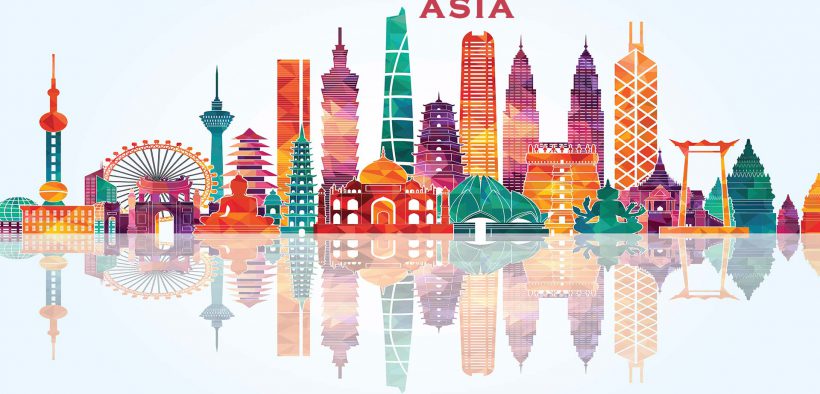 iBwave is on the go again and this time we're touring Southeast Asia. With in-building seminars in Jakarta, Kuala Lumpur and Bangkok and customer visits in between, the team is keeping busy and learning lots about this interesting and expanding region. We're handing out a few iBwave hats along the way too! The team consists of Handrianto Soelistyo our Sales Manager for the region; Allan Arguil, Sales Engineer based out of the Philippines; Dominique Gauthier, iBwave's CTO; and Michel Trudelle, Director of Sales for APAC – all pictured below. We also have Peter Thalmeir, Director of Sales Engineering for EMEA and APAC; Sunder Arumugam, Sales Engineer based out of India and Manon Mayer, Coordinator – pictured further down.
The journey begins in Jakarta, Indonesia for an in-building seminar at the Hotel Mulia Senayan.
With the room all ready to go, a couple of iBwavers try to sneak a peek at the Stanley Cup Finalbefore our guests arrive.
After everyone has arrived and had a bite to eat, the presentations begin with Dominique's Worldwide In-Building Market Overview, followed by Deploying, Managing, Operating and Upgrading a Fast-Growing Volume of In-Building Projects in a Multi-Technology and Multi-Operator Environment. Peter then takes the stage to present iBwave's product suite and the various challenges it addresses.
All this talk of in-building can make anybody hungry and our guests enjoyed this opportunity to do a bit of networking as well.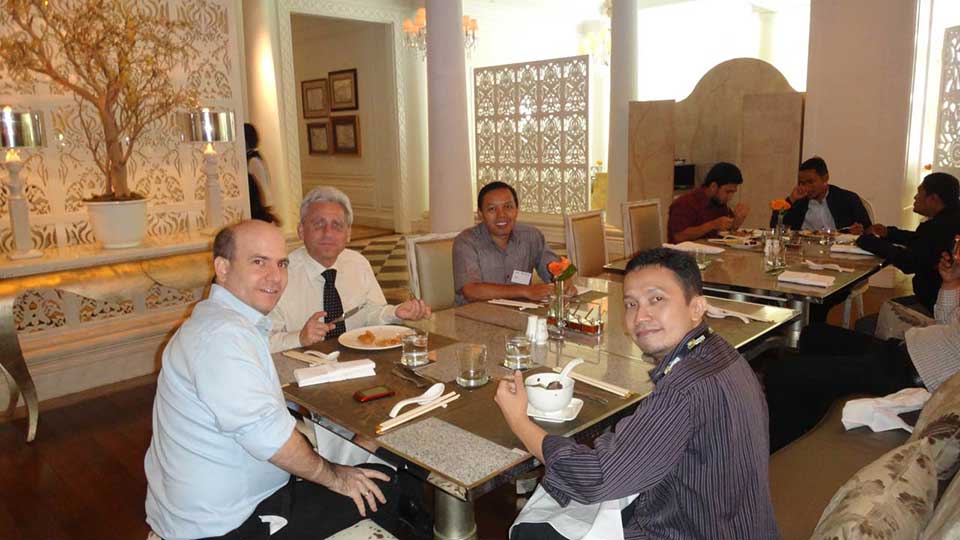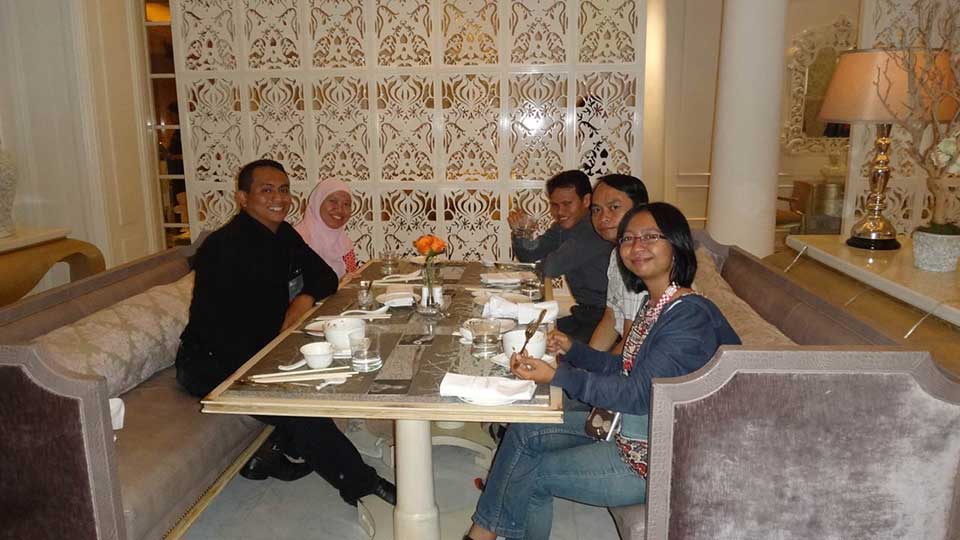 Our guest presenter is next!
As the seminar comes to a close, we give away ten iBwave hats with the hope of getting great photos from this area for our GOT COVERAGE? initiative and contest. One lucky winner goes home with a voucher for a free iBwave Certification session.
All's well that ends well and the team topped off their day with a nice dinner all together.
From left: Peter Thalmeir, Dominique Gauthier, Manon Mayer, Handrianto Soelistyo, Sunder Arumugam, Michel Trudelle, Allan ArguilGo To TopNEXT STOP: Kuala Lumpur, Malaysia!
For this seminar, the team is joined by our Singapore Sales Manager, Jasmine Goh – pictured below with Michel and Dominique.
Before our guests arrive, Peter and Dominique seize the moment to take a couple of silly hat photos.
What a big response we received from this region – the seminar was packed! Just a few more people and it would have been standing room only. The Hilton Kuala Lumpur played host to us and our guests for the day. Our presentations focused on managing a growing number of in-building projects and demo'ing our product suite, including the latest features released just a few weeks ago.
Followed by a nice networking lunch.
Our Kuala Lumpur seminar also included a special iBwave Mobile workshop where everyone got into teams and used their smartphones or tablets to plot the best spots for antennas on the third floor of the Hilton. The hotel's floorplan was preloaded on Unity Team, our new platform for sharing and storing in-building files. Our guests then got to see how the new version of iBwave Mobile works! We then determined a winning team who had the best wireless coverage in their design.
Here are our happy hat winners and iBwave Certification winner:
Thanks to all who attended! It was great to share our knowledge with you and learn about your challenges as well.FINAL STOP: Bangkok, Thailand!
For our last seminar in the region, our team greeted the registrants at the prestigious Sofitel Bangkok Sukhumvit Hotel. Guests were welcomed with a warm breakfast and excess of exotic fruits.
After being welcomed by the iBwave team and a well-deserved breakfast, our guests took place in the room, which filled up pretty quickly. The seminar was able to begin.
Following a session of multiple presentations, guests were happy to move and join again in the dining room for a well-deserved lunch, over which they got to exchange on in-building trends and network with each other.
After lunch, sessions continued. All got to go home after a much busy trip. Until next time everyone and thank you for your support and your participation in our three events!