So Much Happening Day 2 at MWC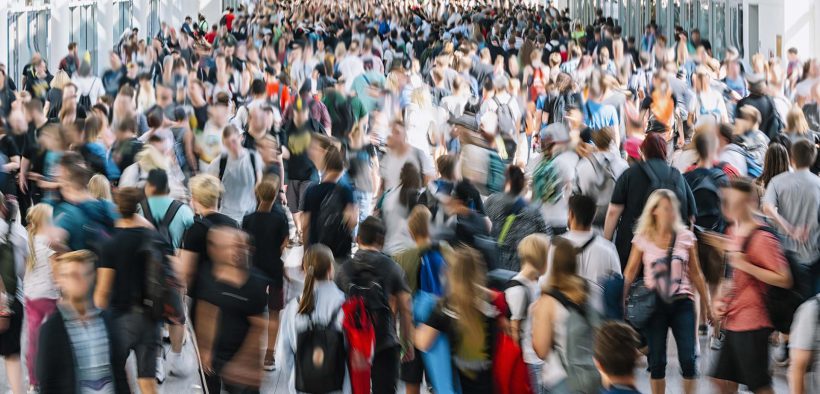 Featured photo: https://rcphotostock.com – © rcphotostock (4476)   
If we thought day 1 was busy, day 2 has been jam packed with a launch, giving a presentation, more meetings & demos and to top it all off, our In-building Mix & Mingle which brought together hundreds of people from the in-building industry.
The day started with the press conference and launch for the Small Cell Forum's Release Five – Rural & Remote – which features tons of content for small cell deployments in rural & remote areas such as rural communities, remote industrial areas, public safety & disaster recovery zones, special events, military applications and transportation.
The press conference covered some of the material available for download and also featured some updated market stats, courtesy of Joe Madden at Mobile Experts. For more info on this release, view our blog post.
The buzz of demos and meetings continued all day at the iBwave booth! Some passersby also stopped by to get a closer look at Scott's socks.
The afternoon kicked off with a presentation at the Small Cell Forum booth on Practical Medium-Large Enterprise Deployment & Case Studies. Art King, Director of Enterprise Services & Technologies at SpiderCloud and Benoit Fleury, VP Products & Innovation at iBwave led the presentation, which covered two use cases – both located on multiple floors – that resulted in excellent 3G coverage throughout the building and a 50% decrease in load on macro-cells.
To hear the pre-discussions on this, you can listen to our recent webinar "Connected People, Devices, Networks… And Tapas?" The speakers start with their expectations on MWC 2015 but get into some of the meat of small cells and HetNet around the 19 minute mark.
Meanwhile, a quick tour of the halls showed that one of the big trends this year is the Internet of Things, ie: watch phones, Wi-Fi cameras, sport technology and all sorts of other connected gadgets. Alcatel-Lucent put a cheeky spin on this, by posting on their booth: "It's not the Internet of things. It's the Internet of YOUR things." I'll let that sink in for a minute.
A quick breath of warm, fresh air in the very cool networking garden and then quickly back to the booth.
Back at the booth, it's time to set up for our In-building Mix & Mingle. Our caterers have once again done a fantastic job of creating a fun atmosphere with delicious hors d'oeuvres and mouth watering Spanish wine.
The cocktail received a great turnout! Special thanks to our sponsors: Accuver, Ascom, Cisco, FalconSmart, ip.access, MCCI, Solutelia and SpiderCloud. Come back tomorrow for more cocktail photos and highlights.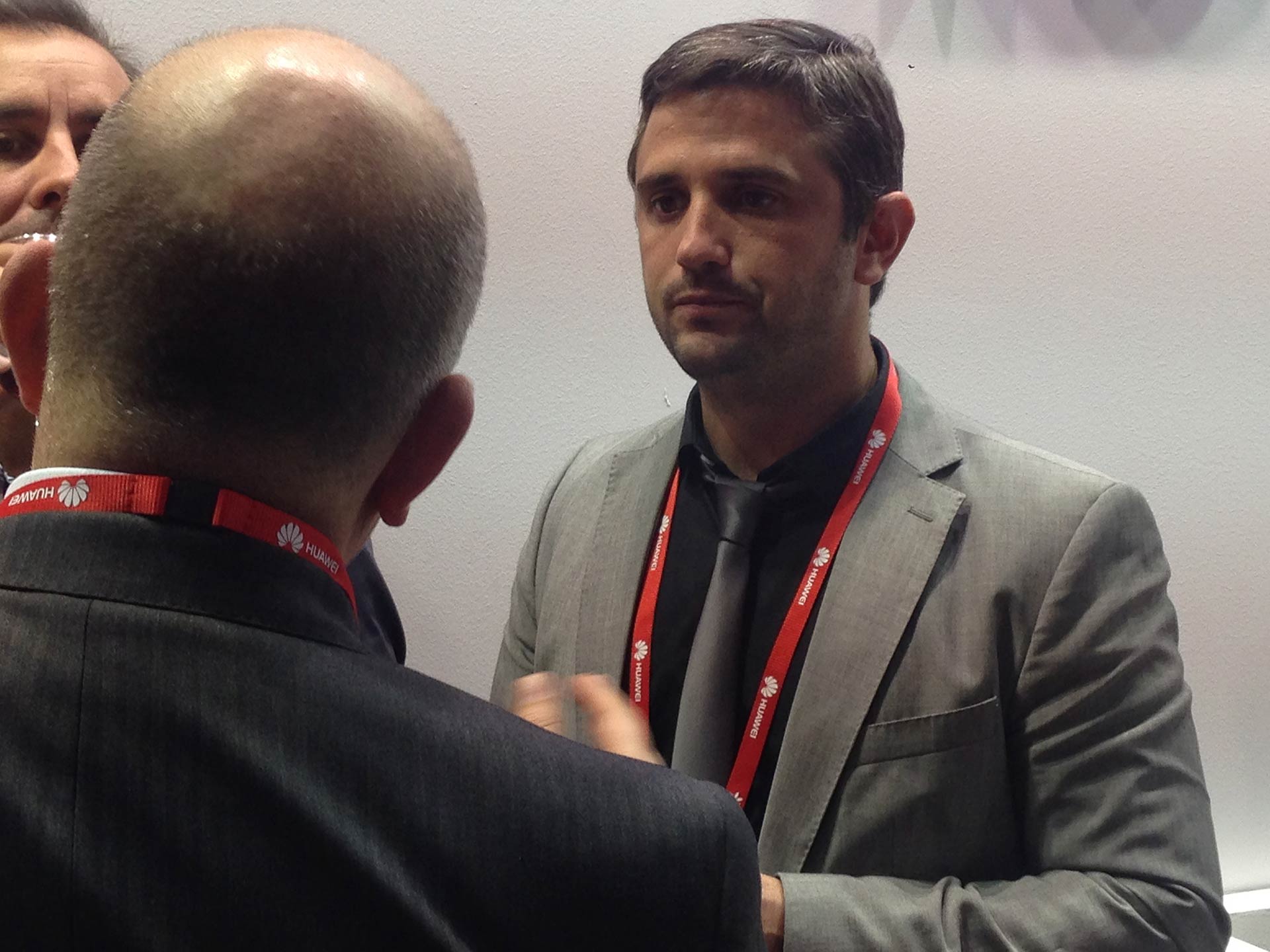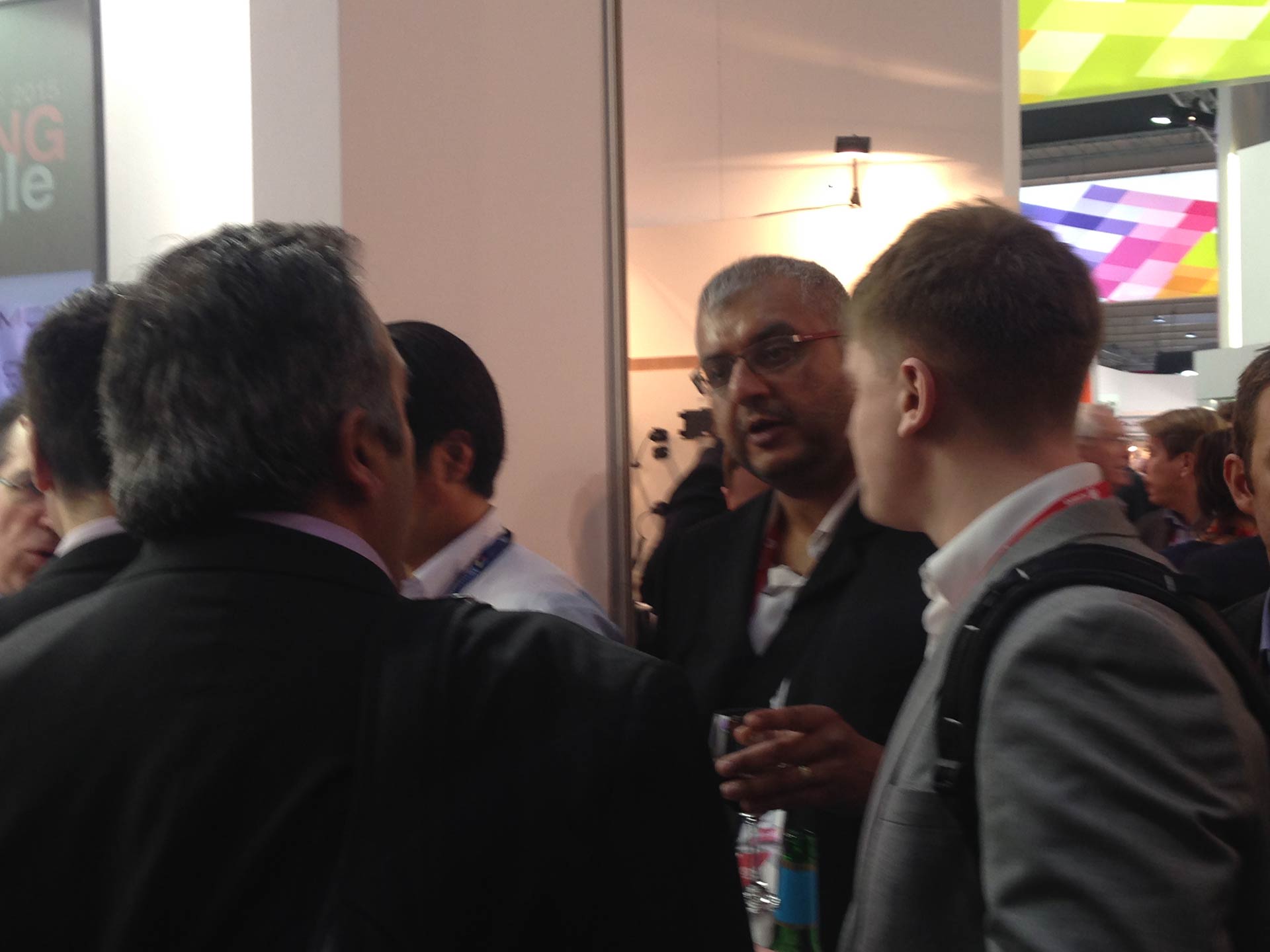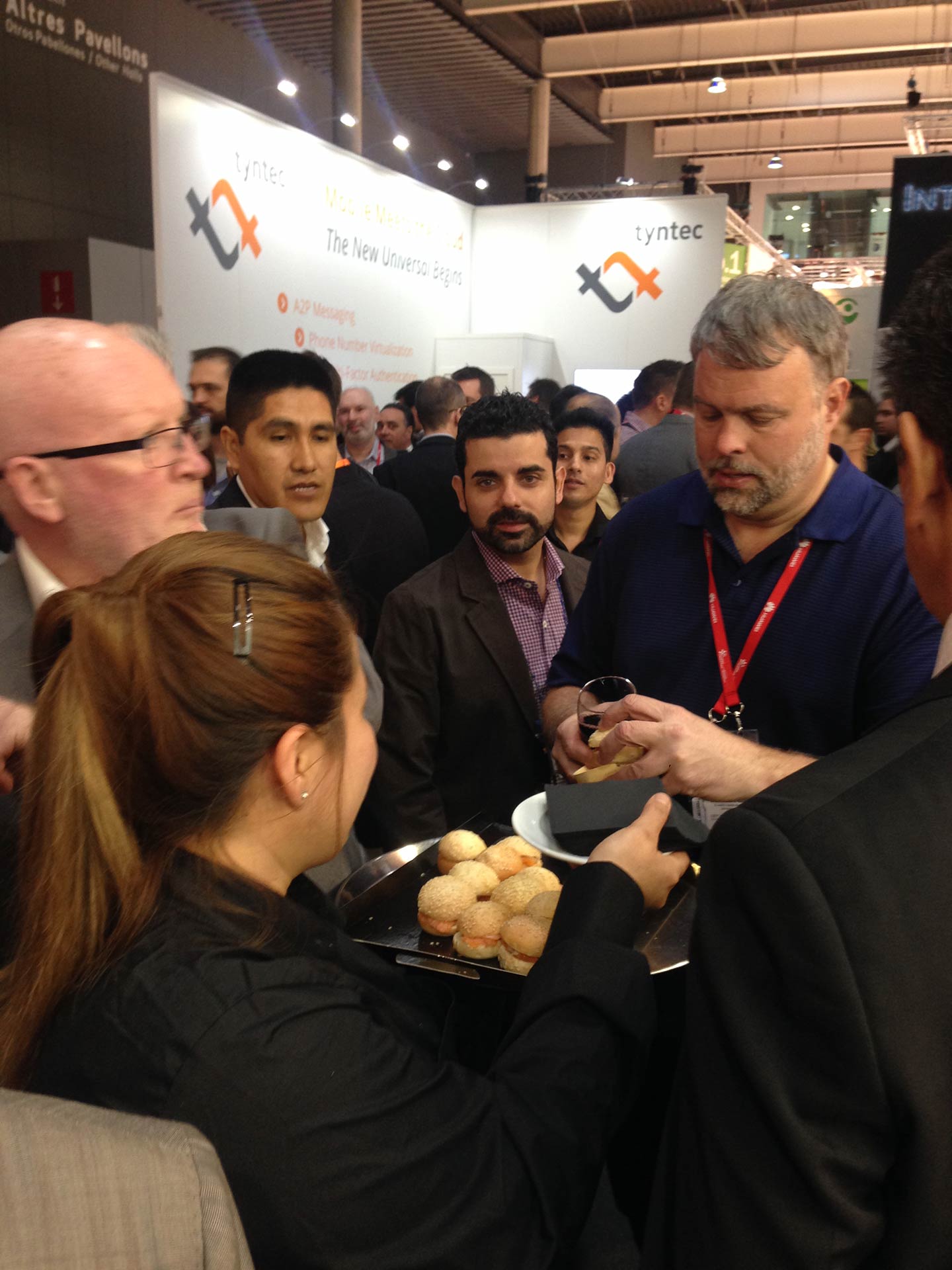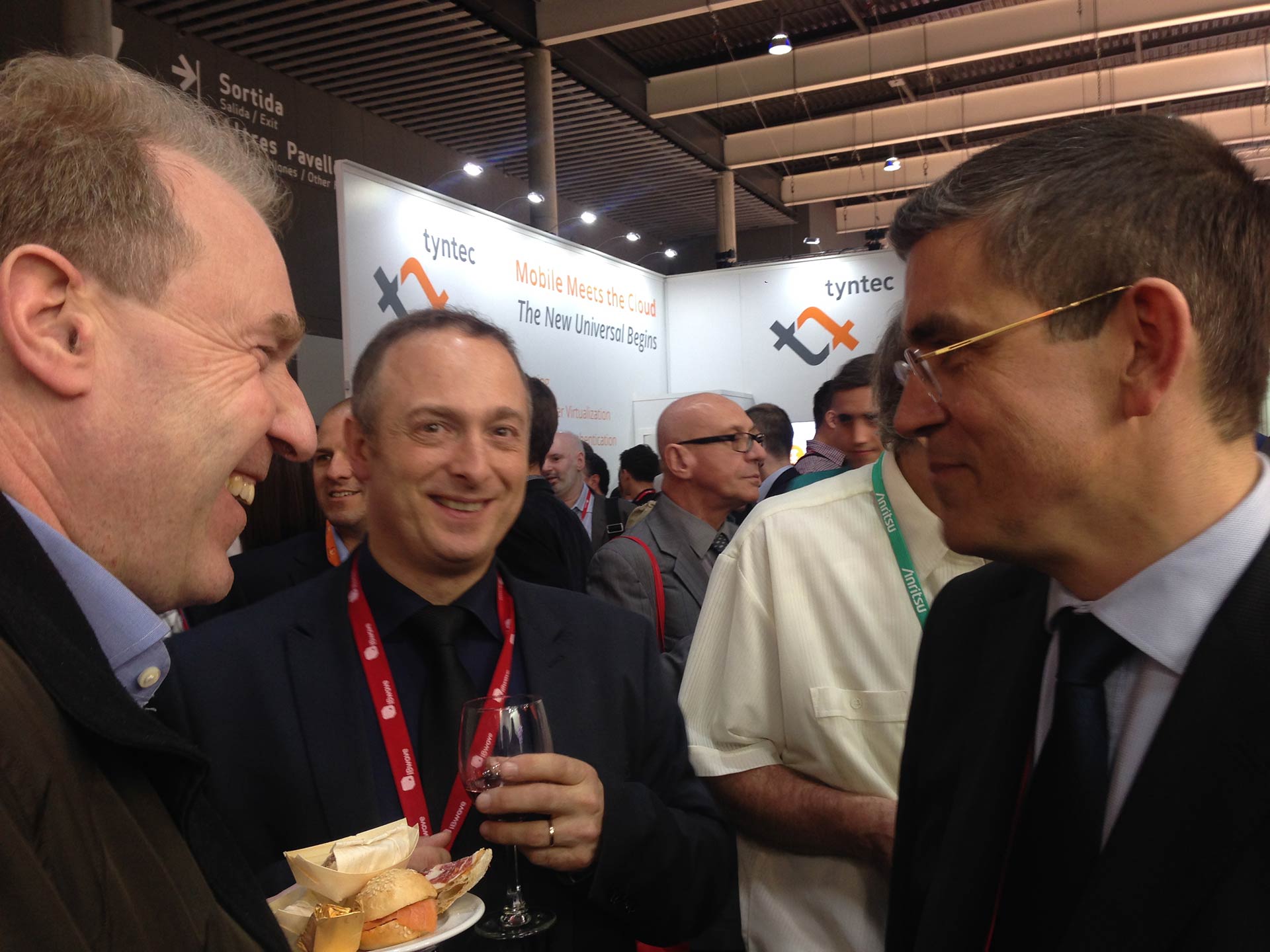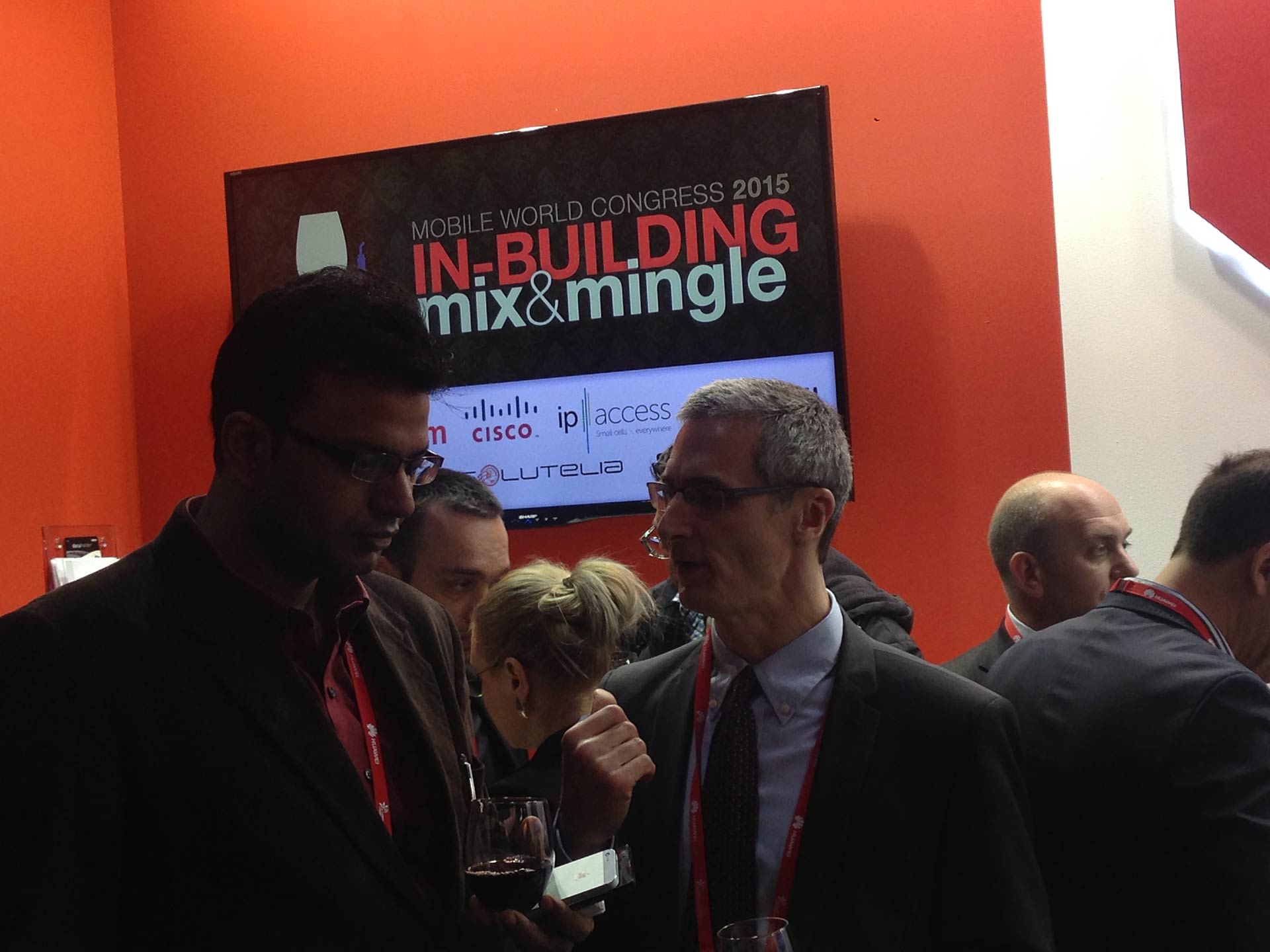 Also tomorrow, if you're at the show, make sure to stop by the Small Cell Forum booth to catch an insightful presentation by our own Benoit Fleury.
Tomorrow at 11am and 3pm:
Latest Innovations and Successes in Streamlining Indoor Small Cells Planning
by: Benoit Fleury, VP Products & Innovation at iBwave with guest speaker Art King, Director of Enterprise Services & Technologies at SpiderCloud
at the Small Cell Forum Booth, 7F61
Stay tuned for more news tomorrow as we cover Benoit's presentation, more fun cocktail updates/photos, our MWC 2015 video and more highlights!