Johannesburg in January – Our Seminar Recap!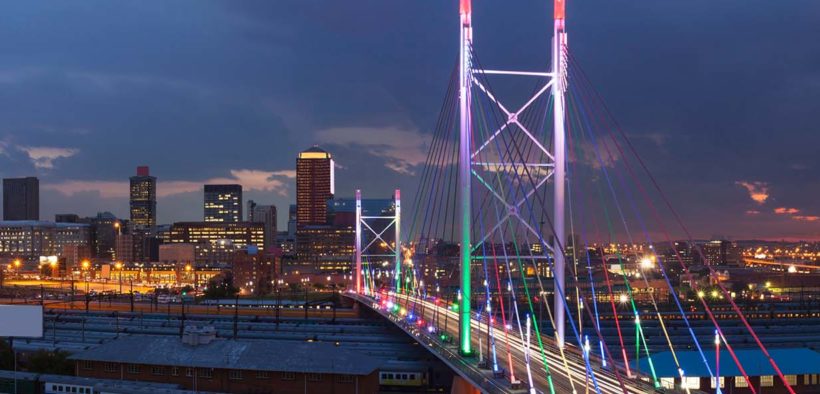 Just over a month ago iBwave returned to the largest city in South Africa, Johannesburg, for another one of our in-building seminars bringing Sylvain Pivot, Robert Froger and Peter Thalmeir with us.
We started the day early with breakfast and registration at the Gallagher Convention Centre, one of Africa's largest conference and event venues – and with sprawling gardens surrounding the 30 hectares of property, certainly one of its most beautiful as well.
After breakfast, it was time to get started with an opening speech by the High Commission of Canada and a quick round of welcomes and introductions where we all started to get to know each other.
With introductions and welcomes quickly turning to anticipatory chatter, it was time to get down to business and start to talk about what we all came here for, in-building wireless!
First Up? Broadband and big buildings – future trends, challenges and best practices
We talked about the expected demand for mobile data in the coming years, the gap between supply and demand for indoor wireless and what we can do about it in the coming years. As most of us in the industry know, approximately 80% of all worldwide data connections initiate inside a building, but in-building coverage is currently only about 20% That's definitely a large gap. And it gets even more complex when we start to look at all the different options coming into the market for providing indoor coverage – there's DAS, small cells, Wi-Fi offload and carrier-grade Wi-Fi, HetNet,self-organizing networks (SON)…you get the idea.
Next up we focused on best practices when bringing broadband into large buildings using DAS.
To do this, we took the example of a stadium and made our way through the stadium wireless network lifecycle, looking at the challenges and best practices of the 6 phases – Survey & KPI Definition, 3D Modeling, Dimensioning & Planning, Detailed Engineering, Deploying & Commissioning and Operations & Maintenance .
Going through each of the six phases we took a closer look at the iBwave suite of products by demoing first how iBwave Mobile can be used to run more efficient surveys, and then how iBwave Design can be used to create 3D Models and complete the planning and design of the venue.
Here are some of the key takeaways from our morning discussion
In-building wireless services are becoming a commodity
To make ROI easier, planning , design and deployment processes need to evolve
Communication and documentation are key to reducing deployment time and costs
Industrialization of in-building processes will be the key to enabling scalability
Next up, we took a seat and Saroof Aungraheetaa, a Technical Solutions Manager with Kathrein South Africa took the stage to talk about challenges for in-building solutions and smart DAS systems. He then walked us through a real case study of a smart DAS system Kathrein had completed.
3 key Smart DAS points Kathrein left us with were
They are multi-operator, multi-brand and multi-technology capable
They are highly flexible compared to existing DAS systems
They are very 'green' and save power
After such a full morning it was time to eat! And eat we did – on the lovely wooden Koi Deck at the Gallagher.
Once lunch was done we came back to kick-start our afternoon with what turned out to be one of the highlights of the day – a panel discussion to talk about in-building industry trends, challenges, standards and what the future will look like.
Industry experts participating in the panel discussion included:
Ignatius Fereira from Vodacom , Behula Shah from Kathrein South Africa , Steven Grobler from Radio Network Solutions (RNS), Sisek Ngxola from Cisco, Robert Krumm from Ruckus Wireless
Here are some of the questions the panelists discussed…
Biggest challenges you deal with in IBS?
The standards in place and how important they are?
The future of our industry?
The discussion was a great way for all of us to hear what's happening in the field and gave our attendees a chance to ask questions and interact with our expert panelists. It also opened up our minds to many questions that were continued to be discussed at the networking event later that night!
Our next topic was trends and procedures for bringing broadband into medium and small sized venues.
To do this we focused on the lifecycle of an in-building network through the planning, design and building and implementation phases. Highlighting our collaborative and cloud-based tool iBwave Unity, we went through each phase to demo how Unity can be used through the life cycle of a network to efficiently manage the planning and design – and used to archive and manage the design's past deployment.
Next up, it was time to hand the stage back over to one of our guest speakers – Robert Krumm from Ruckus Wireless who presented us with "Small to Medium Venues Wi-Fi, DAS & Small Cells – OH MY!" Robert discussed with us trends currently driving the industry, Wi-Fi as a utility, how businesses more and more are realizing how they can profit from Wi-Fi and integrated business services, and the concepts around HotSpot 2.0 and making the Wi-Fi connection process as automatic and secure as cellular. Robert made some great points and you could tell the attendees had lots of questions to discuss!
And then before we knew it, time was up, closing remarks were given and our day together was over!
A special thanks to all the companies who attended the seminar
Kathrein South Africa, Vodacom South Africa, Dartcom, Mafiri Wireless, Intellitech Systems, Jasco Trading, RFS, RTX Solutions, AlanDick Africa, Rodmark & Co, Saab Grinktek Technologies, Level-X, Radio Network Solutions, Ilanga Technologies and National Association of ICT.
And a special congratulations to the winners of a free iBwave Certification!
Kivan Maharaj and Kavi Garrib from Intellitech Systems
Geoffrey Mofomme Malose from Mafiri Wireless
Thanks Johannesburg, see you next time!